Teaching Soft Skills in India (by Shrishti Choudhary)
I am Shrishti Choudhary. Professionally, I'm an IT engineer, but the job I relate to more is teaching English to government school kids. With my technical academic background, you might be wondering what compelled me to go for teaching English. Well! It's a story of a school girl who actually generated the passion in me to want to do something of worth, not only for her but for other students like her. Would you like to know her story? If yes, here we go…..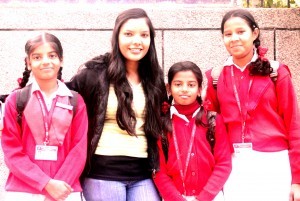 This is the story of a school girl named Guddi. She was simple enough in her appearance but not in her beliefs; she was determined to prove that she could be the part of the English speaking Indian society.
Speaking English in India is considered somewhat inevitable, if you want to succeed in life.
 School leavers who are not adequately trained in English are always at a handicap in the world of higher education
Proficiency in English is widely perceived as an important avenue for employment and upward mobility, which also greatly facilitates the pursuit of higher education.
This reality is not lost on our people, who recognize that the English language is a critical determinant of access to higher living status, and opportunities for a better life.
Guddi had studied in a government school for almost a decade. Most students of the same age in private schools were fluent enough in English to flaunt their skills in various state level talent search competitions. While she was very good in conceptual and logical knowledge, Guddi always felt weak when it came to English communication. Gradually she became aware of the gap between her and her private school peers; she was unable to stand in front of people and speak English. She always felt hesitant to speak in English. Her parents wanted to help Guddi in any way they could so they accompanied her to a 'Spoken English Institute'. It was considered to be the most prestigious language institute in New Delhi (India).
So what do you think? Did the language institute help?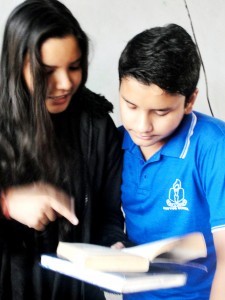 Guddi was the only one of her kind in her new spoken English class – a government school kid hesitant to speak even a single sentence in English. The language school was way beyond anything Guddi had imagined; it betrayed her by giving an illusion that was beyond her reach. She came to realize that instead of developing confidence, she was actually losing it gradually. Most of Guddi's course mates belonged to private schools; they loved to show off their communication skills which made her feel even more inferior. Guddi usually spent her classes watching her trainer encourage those kids and speaking with them joyfully. The trainer praised the fluent students for every answer and cherished their self-proclaimed achievements. Those students were proud of their accomplishments, felt successful, and had a blast in class. Her teacher did not show the same concern toward her, and Guddi remained in class with almost no sense of existence in a very hectic, complex and profusely confused state of mind. She kept on trying to search for a reason to be in the class. She wanted to give it her best shot, she wanted to survive as her parents spent quite a considerable amount of money for that course ($100, which was really a huge amount in comparison to her school fees which were a mere $1).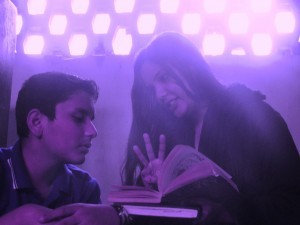 One day during her spoken English class Guddi decided to speak up, to prove her dedication towards the most precious language for her as she knew it was the only medium to get recognition among her peers and her teacher. She collected all her courage, infused it into her soul, gulped down a whole bottle of water, gave herself a most required boost, inhaled very quickly all possible air she could and suddenly she was standing in hope of conquering almost the whole world war without any weapon, helplessly surrounded by the critical eyes of  her flaunting class mates and her trainer. When Guddi tried to answer one of the questions in her cracked English, enormous predictions of error began revolving to and fro in her mind, continuously obstructing her ability to speak any word at all. Finally, she did speak and did give an answer. The very next moment everyone, including her trainer, laughed and made fun of her attempt and Guddi was ordered to sit down. The conflict between Guddi's self-respect and her class's ridicule was more discouragement than she could handle and Guddi passed out on the stage.
But as the phoenix emerges out of the ashes Guddi decided to take this as a challenge and started working toward her goal very hard.
Her synopsis got selected for a national level talent search discovery fair and Guddi was chosen to represent her city with her project at the national level. Guddi was confronted with many hurdles but at last her hard work paid off. She gave presentations in "English", sorted out queries of the judges in "English", had successful conversations with large audiences as well as her fellow competitors in "English" and gathered those most precious communication skills which meant the world to her. The icing on the cake was when she won the best of subject category award in botany and was congratulated by everyone. That was the day she was flying without wings. She conquered her fear and won the world war in her own very incredible way.
I would like to state a simple equation which I believe is very true in terms of education, at least in India. The quality of education is directly proportional to the amount of money which is being spent in acquiring that education.
Usually students studying in government schools belong to service class families where they hardly have anyone to communicate with in English in order to get rid of their hesitation. They feel helpless and restless for not having familiarity with English, which is why these students generally lack in confidence and don't answer questions in class even when they know the answer.
 A survey conducted with various government school students showed that when their teachers ask a question, out of a class of 40 students, 20 students know the answer but only 4-5 end up answering the question, which clearly shows that most of these students have knowledge but they hesitate while speaking.
These students can't afford to go to ELT (English language teaching) institutes because the courses offered there are very expensive and beyond their parents' budget.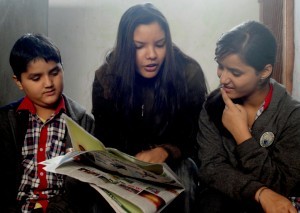 This is where I come in. I encourage leadership among youths via personality development classes. I work mostly with students studying in government schools. Basically, when they come to me their basic understanding of concepts and knowledge about a subject is already incredible, but when it comes to public speaking stuff like explaining things in English or making presentations in front of people, they lack confidence and hesitate a lot. This is because they don't usually get support in their schooling for this kind of skill development and growth. I work to give them experience with the kind of exposure that can bring about excellence in their overall personality and behavior.
Please do give your precious comments to encourage me to keep writing about these students, and so I can develop the bonds of relationship with all the incredible readers over here. I would like to heartily thank my dearest friend Barbara Hoskins Sakamoto for inviting me to write about my work in India, and for introducing me to her work with iTDi, and for providing me with a platform to discuss my experiences with like-minded people.
With your encouragement, I hope to write more about critical issues pertaining to the existing education system in India, my student's experiences – why do they feel helpless? Why do they feel inferior? What needs to be done? How can an individual can act as a catalyst to bring about change?
I believe that if we all try to do even a little, the results can bring about a revolution in education, THE NEXT BIG CHANGE…….
Note: This article by Shrishti Choudhary originally appeared as a guest post on Teaching Village and is licensed under a Creative Commons, Attribution-Non Commercial, No Derivatives 3.0 License. If you wish to share it you must re-publish it "as is", and retain any credits, acknowledgements, and hyperlinks within it.