Writing for First-Time Readers: My Creative Process (by Daniel Olsson)
On November 17th at the ETJ Kansai Expo in Osaka Daniel Olsson, author of ELF Learning's new TRW Reader series, will be sharing his experience of the writing process. Here he gives a brief sneak preview of his tricks and techniques — some of which may be surprising.
Everybody has a passion. It's not inevitable, however, that everyone will get a chance to indulge in that passion or have the opportunity to apply the related skills to something practical. When I was asked to write a reader to accompany ELF Learning's Think Read Write phonics-based reading and writing workbook, however, that's exactly what happened. I would be using my writing skills directly alongside my teaching skills and the kids I saw in my classroom on a daily basis personified my inspiration and my end goal. Here, I'd like to share some of the key elements of my creative process that resulted in a book that, I believe, has the young, first-time reader at its heart.
More than anything else I was desperate to create something that was not only 100% comprehensible but was 100% worth comprehending. I have used a wide variety of texts in the classroom that are aimed at young, first-time readers and I've always come across the same problem: The texts are either written entirely for ease of decodability or with the intention of engaging the reader in the content — but never both. My students were either engaged in a subject but scraping through with a 50-60% comprehension rate or were decoding simple words that just didn't add up to create something they wanted to read. What is the point of being able to read words that you can't comprehend? Or even more pertinent: What is the point of reading if the words don't create a wider meaning or that meaning is of no value to the reader? There would absolutely be no room in my book for lines like "the gal pal in the bag sag".
The process:
At the core of my writing process is a mantra that may seem counterintuitive: narrow boundaries and tight limitations can actually enliven the creative process. In order to stick to my rule of 100% comprehensibility I needed to be strict with what vocabulary I introduced to my students. Any one of us could write at a level first-time readers could decode but how do we know what words to use when there are so many words out there. Make rules and stick to them. Limit limit limit. And you will see your imagination kick in and take the creative process to surprising places.
At first I was bound to the 10 letters introduced in units one and two of Think Read Write: a, e, i, o, u and b, p, g, c and k. My initial challenge was to write a story using only these ten letters. Not only that but I tried, as much as possible, to use the vocabulary featured in the textbook. I was restricted therefore to: big, pig, egg, up, kick, bag and cup.
You would be forgiven for feeling, as I did, that there is no way on earth I could write a story with six words. But before I despaired entirely I looked again at the words. I had an adjective – big. I had a verb – kick. I had a preposition – up. And I thought to myself, "a story with only six different words? – now that is something kids trying to read English for the first time will appreciate." Not intimidating and very do-able. The perfect shot in the arm — and they only need to be able to recognise ten of the 26 letters of the English alphabet.
However, the more I pondered these words the more I felt that, while it might build confidence through simple decoding, a book that was entirely decodable would be a disservice to my students. After all, only six of the 20 most commonly occurring words in the language are decodable. A solution: Introduce one of these high-frequency words as a 'sight word' in each story.
Ah, I knew it was too good to be true! I couldn't restrain myself to the boundaries I had set.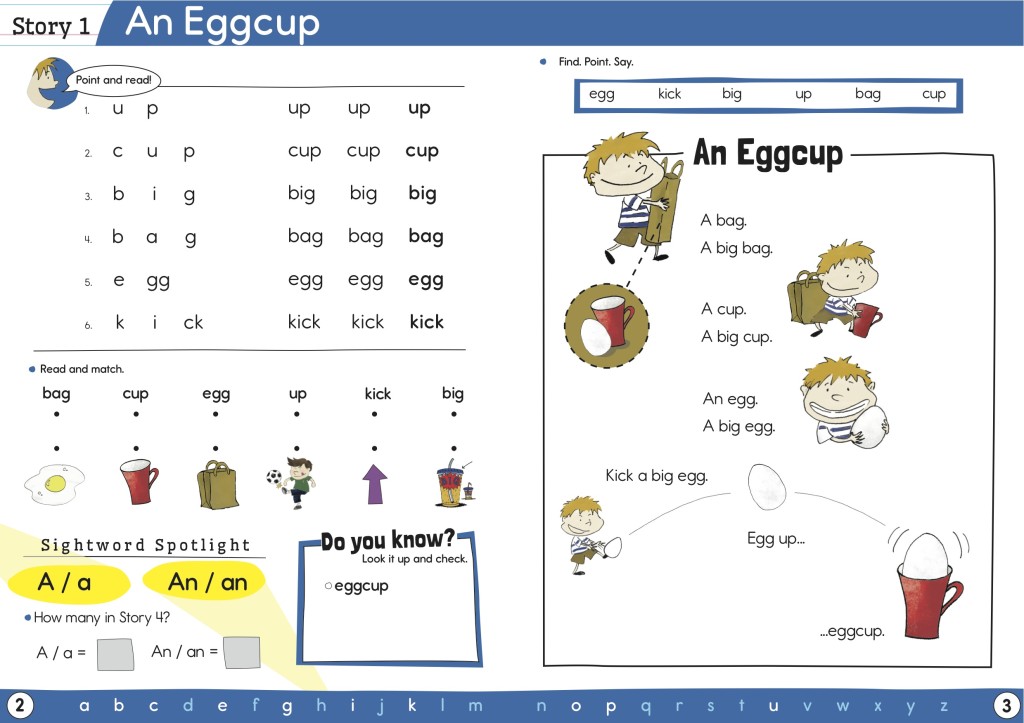 And now I was introducing something that would need to be pre-taught. But what's wrong with pre-teaching? In fact, I decided to pre-teach more. Each story in TRW Readers is presented as part of a double page spread of which the left page is made up of pre-reading activities to ease the students into the story and to ensure 100% comprehension.
So, now armed with a 'sight word' (in Story 1 this was 'a/an') I arranged my words as best I could to create a story:
And that was Story 1. Done. Only 24 words long. Only 10 different sounds plus the 'sight words' 'a' and 'an', and with only eight different words. The eighth being 'eggcup' which itself is a compound of two previously introduced words. And the best bit: something happens! (Not much, I know, but it set the book off in the right direction).
Now, of course, to achieve my desired 100% comprehensibility I would need illustrations. In this book illustrations serve two purposes: Firstly, they assist the text in creating a story with meaning (something worth comprehending!). Secondly, as is traditional, they help the students comprehend. The book didn't require incredibly detailed illustrations to make it fun for my students. Sentences such as 'kick a big egg' and, in story 10, 'Drop the egg, pig!' provide a lot of the fun for the kids. But the illustrations did provide characters and animation that such limited text could not.
If you want to write for young readers don't be afraid. Limit your scope and constantly ask yourself two things: Is this story comprehensible? And, is this story worth comprehending? Spark the imagination and interest of students with something they can read and something they want to read!
Note: This article by Daniel Olsson originally appeared as a guest post on Teaching Village and is licensed under a Creative Commons, Attribution-Non Commercial, No Derivatives 3.0 License. If you wish to share it you must re-publish it "as is", and retain any credits, acknowledgements, and hyperlinks within it.