Classroom Management with EFL Students (by Natalie Britton)
On the first day of school in Busan, South Korea, I stood at the front of my class five minutes before the bell rang waiting to greet my new middle school students. After seven minutes had passed, I was about to go and search for my class when I heard a loud rumble coming from the floor above. Suddenly, three dozen pairs of feet came running into the classroom attached to three dozen pairs of flailing arms and three dozen shouting mouths. Stupefied, I stood frozen and looked on, wide-eyed, as my classroom was ripped apart by thirty-six wild monkeys.
Okay, so maybe I'm exaggerating a little. But really, it's only a little. I felt like I was watching a pack of wild animals storm into my room when I was expecting an orderly line of studious, well-behaved pupils to sit down quietly and give me doe-eyed, ready-to-learn expressions. The struggle to control middle school students in South Korea is no secret amongst native English teachers. When I started teaching in August 2012, I quickly learned that my students would eat me alive if I didn't develop an effective classroom management plan.
I am now going to share 4 techniques that have greatly helped me control large classrooms of EFL students.
1. QUIET SIGNALS
I believe it is essential for effective teachers to have a quiet signal in class. Having a quiet signal reduces wasted class time, keeps the learning momentum going, and prevents teachers from yelling at students. Many teachers in America use the raised hand signal where the teacher raises his or her hand and the class subsequently stops talking. Other teachers will say, "One, two, eyes on me!" to which the classroom replies, "One, two, eyes on you!"
For ESL students, your signals should incorporate a combination of student listening (auditory), student looking (visual), and student movement (kinesthetic). For example, my quiet signal is a clapping pattern. I will clap a pattern and my students will repeat the pattern back to me. They know to be quiet after they clap back. This quiet signal involves both listening and movement and fully captures the attentions of all students. Additionally, all students, despite their English levels, can listen and repeat. Another example of a quiet signal I use in class is counting down from five. I will hold my hand up and show the numbers on my fingers as I count down, "Five, four, three, two, one, and quiet." Students listen to my words, see the numbers show on my fingers, and know to be quiet when my hand becomes a fist. This signal is appropriate for most ESL learners as well since counting to five is a basic English skill.
2. TEAMS AND TEAM POINTS
Since I have over thirty students in each class, I divide them up into teams so that they can collaborate, work together, and earn team points. In my classroom, I move desks so that they are all in pairs of two and facing forward. I organize three columns of students which creates three teams. Along with creating large teams for cooperation and games, arranging desks in pairs within each team allows for partner work and lots of student talking time in class. Below is a picture showing this classroom design.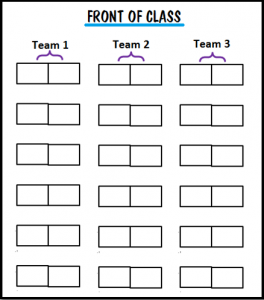 All throughout class, I give students points for good behavior and correct answers. I do this with tally marks on a whiteboard. Team points encourage students to collaborate and work with one another to earn more points. By giving points throughout class, students are kept accountable both for their behavior and for their academic performance.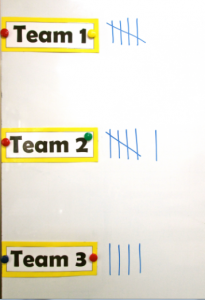 If you choose to use teams and team points in class, you can choose the winning team's reward. Many teachers give stickers or small pieces of candy, others track team points for a future party, and some choose to merely let their students feel proud of their win as their reward (intrinsic motivation). It's up to you!
3. TIMER
I have some classes that seem to think my class is Designated Chatting Time with Friends 101. Every teacher has had a group like this. No matter how many times you've practiced your quiet signal, certain students continue to talk.
In these situations, I use a simple kitchen timer. After I've given a signal, I will start the timer if students continue to talk. At the end of class, students must stay in the classroom with their heads down on their desks for the amount of time shown on the timer. Since students have very short break periods in between classes, they hate staying late and usually stop talking within 5 seconds of me starting the timer.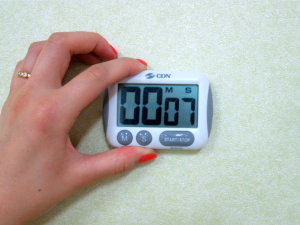 4. DEVELOP RELATIONSHIPS
Despite how many classroom management techniques you have established in class, nothing can compare to the relationships that you develop with your students. Establishing a friendly, encouraging (yet rigorous) milieu in your class can do wonders for your ability to manage a classroom. If you take time to talk to your students outside of class time, you will gain their trust. When students trust you, they respect you as a teacher and much more likely to pay attention in class.
This became very clear to me after several months of teaching at my middle school. During the first few months, I was apprehensive and nervous and made little effort to connect with my students. After I relaxed and felt more comfortable teaching, I began developing a rapport with students by talking to them before class, after class, at my desk, and in the halls. About four months into teaching, I noticed a huge shift in student attention during class.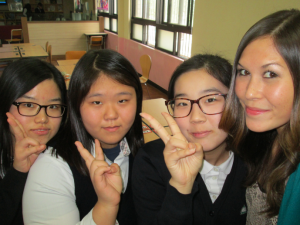 I hope that you find my experiences useful and are able to transform your classroom into one of active respect, diligence, and most importantly, learning!
Note: This article by Natalie Britton originally appeared on Teaching Village, and is licensed under a Creative Commons, Attribution-Non Commercial, No Derivatives 3.0 License. If you wish to share it you must re-publish it "as is", and retain any credits, acknowledgements, and hyperlinks within it.