Child's play crafts that increase spelling skills (by Anna Musielak)
My spelling is Wobbly. It's good spelling but it Wobbles, and the letters get in the wrong places. 
English might be an easy language but its spelling is tough and complicated. The words are spelled and pronounced differently and there are a lot of exceptions to the existing rules. That is why it is important to make spelling activities exciting and fresh. We should refrain from dull drilling and making our students rewrite a certain words 10 times. Instead let's make spelling colourful and fun so that even when kids write the same word 10 times they do it differently and they don't get bored and discouraged.
1.     Bottle tops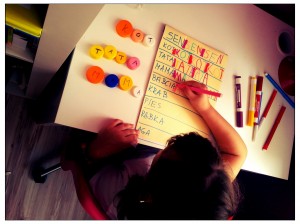 At the moment I am teaching my daughter how to write and believe me Polish spelling is not that easy. I try to make it as varied and fun as possible. I use bottle caps with letters written on them. When we practice spelling I usually write down the word on a piece of cardboard paper and ask my daughter Agnes to find the appropriate letters.
With my pupils I make it more challenging and divide them into groups and ask them to spell out as many words as they can.
2.     Embellished letters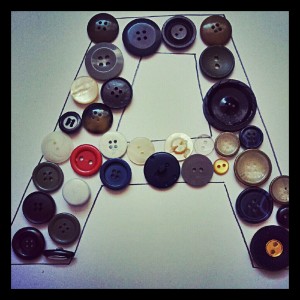 This activity helps kids become "letter" aware – pupils learn the letters first, make them their own by decorating them (with beads, buttons, glitter or anything they want)  and then  – create words. Thanks to this young learners pick up the sequence of letters that compose a certain word.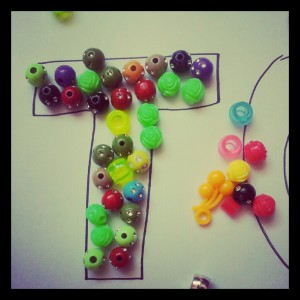 3.   Zip lock bags and cotton pads spelling.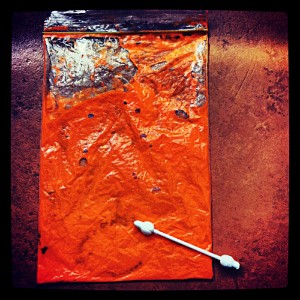 In my previous post on crafts I mentioned that kids love messy activities. Teacher might be less willing to have an untidy classroom but a little mess from time to time didn't hurt anybody. When practicing spelling I sometimes use little zip lock bags with paint inside. Kids get their own cotton pads (and I am a worrier  so that is why I always use the cotton baby buds to make sure they won't get stuck in the little ears) and I dictate a certain letter or word and they have to "write it down" on the paint bag. Instead of paint you might try shaving cream. This activity might get the desks and the pupils a bit dirty that is why I always have wet wipes within easy reach.
4.     Spelling with Squinkies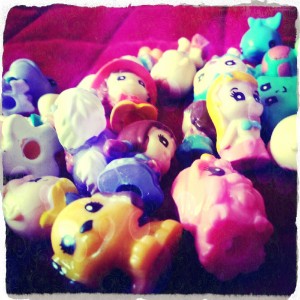 My daughter collects squinkies and I use those little toys to practice a lot of things with her. Not so long ago we practiced spelling – how you might ask? Well, I took those empty bubbles and inside I placed tiny glittering letters and a squinky – e.g. the letters were T C A and the object was a cat. I explained to my daughter that she needed to use the letters to spell the name of the animal she found inside. It was a lot of fun (of course we did that in our mother tongue;)) and I will definitely use this activity on my English lessons. Instead of squinkies I plan to use empty Kinder Surprise eggs and either cut-out letters or letter beads and tiny objects or drawings.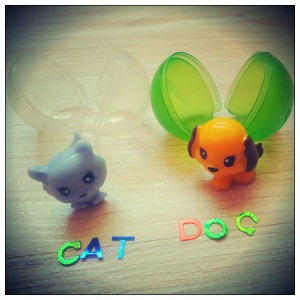 There is only one conclusion that comes to my mind – by making spelling exercises amusing we help making the learning process unforgettable and our pupils improve their spelling skills without even realizing it!
Note: This article by Anna Musielak originally appeared as a guest post on Teaching Village, and is licensed under a Creative Commons, Attribution-Non Commercial, No Derivatives 3.0 License. If you wish to share it you must re-publish it "as is", and retain any credits, acknowledgements, and hyperlinks within it.