Engaging young (and very young) learners with (basic) craft projects (by Anna Musielak)
Arts and crafts involve children simultaneously in activities promoting their personal development and in helping them to learn the language. While making things, children also make meaning. As they explore shapes, colours, textures, constructions, they are extending their experience and understanding of the world – and doing it through the medium of the foreign language.
                                                            Alan Maley
Crafting is my hobby – despite the fact that I am a very messy and clumsy person;) I find it relaxing and challenging at the same time- just like teaching kids! My interest in using crafts to teach English started with my daughter – now 5 years old. I wanted to make learning fun and memorable for her. Agnes collects a lot of "rubbish" which she likes to embellish and she just loves drawing, painting, gluing, cutting and folding which makes me very happy as it helps her develop her motor skills. As for me – well, it keeps me busy because I have to clean the mess she makes afterwards;).  I decided to use Aga's interests to introduce some new English words and sentences and to make learning enjoyable.
I look for crafts inspiration in art books for kids as well as various TV shows such as Art Attack or Mister Maker. From time to time I read resource books that are focused on using crafts and projects in ELT (e.g. Projects with Young Learnersby Diane Phillips, Sarah Burwood and Helen Dunford or Art and Crafts with Children by Andrew Wright both published by Oxford University Press). I find a lot of ideas on the Internet of course (once again pinterest and pinspire come in handy). I modify the projects we do together to fit the needs of my 5-10 year-old pupils and that's the beauty of crafting – the projects can be adjusted to use with pupils at different levels and ages. Below there are a couple of projects that I tested out on my daughter and my students – they do not require a lot of expertise when it comes to crafting so they were not too intimidating for me.
Bubble wrap bingo
Together with my daughter we started with very basic things – creating our own bingo cards with the English words Aga was (more or less) familiar with – dog, cat, teddy, pig and other animal names. To put a twist on the activity we used bubble wrap (the one with very big bubbles) and either drew pictures on them (using sharpies) or put some stickers on. It was a lot of fun (for both of us). I shouted a word and Aga had to find the appropriate bubble and pop it (and who doesn't like popping bubbles?!). With my young learners I used more "advanced" vocabulary and used those bubble bingos for revision of shapes, colours, numbers, letters and rhyming. The only problem with that activity is that after the bubbles are popped the bingo "card" cannot be used again.
Balloon faces.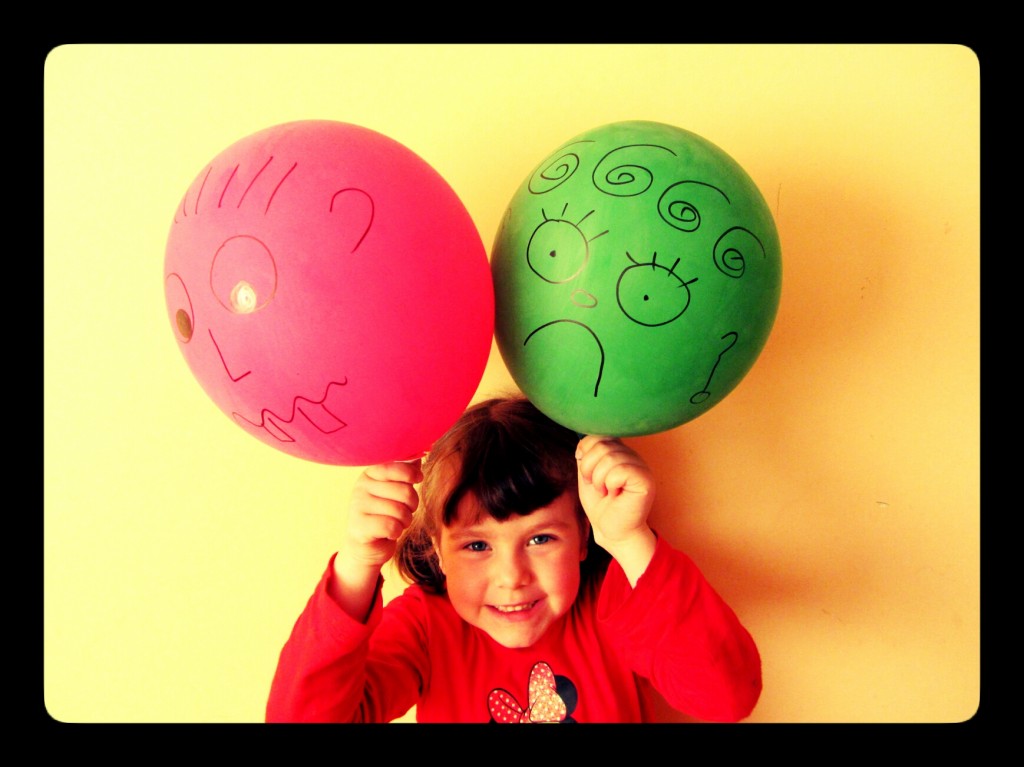 Another little craft we made was with balloons – we drew faces on them and practiced the words describing feelings. Each of us had a different balloon and we talked about how we feel. (e.g. How are you? I am fantastic. How are you? I am sad and sleepy). With pupils who were a bit older we had a picture dictation activity to revise body parts. I read out sentences – e.g. it has four noses and three big eyes – and my children had to draw the appropriate features on the balloons.
Fingerprints and handprints.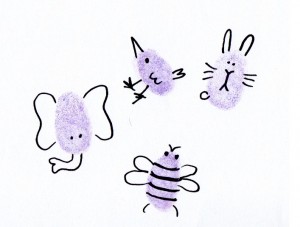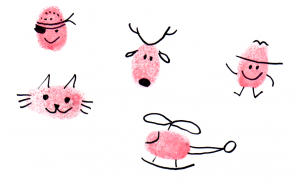 Kids love messy activities and teacher who let them get dirty from time to time,  that is why in my classroom we decided to create some hand print and finger print pictures. Depending on the topic studied we either focused on seasons and holidays (hence the Santa) or animals and their habitats. Handprints are fun and kids love to use their imagination and be creative. If you do not want to make too much mess in your classroom, you can just outline the little hands of your pupils instead of printing the hand by using ink/paint. The same exercise can be done with thumb and fingerprints. They are great for talking about family members, jobs, routines, likes, dislikes and many, many more depending on the age and level of your little learners.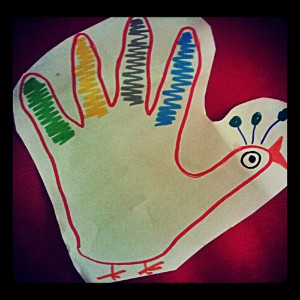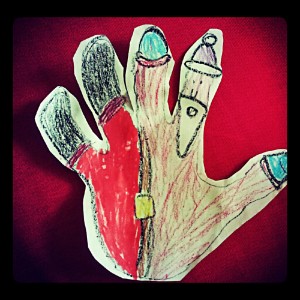 Pet monsters.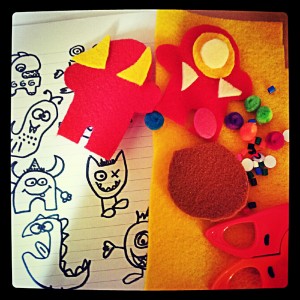 My kiddies love monsters and every activity that has a strange creature in it is an immediate success. That is why we decided to create our own pet monsters out of felt.  As I didn't want to use needles with my young learners we decided to opt for a safer version of gluing the felt on paper and embellishing the creatures with googly eyes, pompoms, buttons and glitter. First, my pupils designed the monsters on paper, cut the shapes out and then transferred them onto colourful pieces of paper. The monsters were then described in a very basic way (again depending on the level of your learners you can practice various words and structures). With my more advanced 7 year-olds we introduced basic verbs such as have/can/like and we practiced the third person singular as well as negatives and contractions.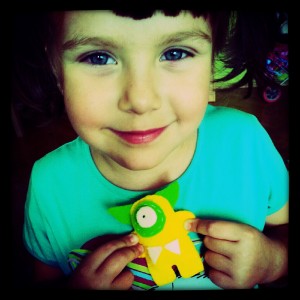 It is a monster.  Its name is Fluff.  It is a boy. He is yellow.  He has one eye. He can shout.  He cannot run. He likes cookies.  He doesn't like potatoes. He lives under my bed.  
What have I observed when using arts and crafts in ELT? Well, children are engaged and use all their senses while learning. Young learners also seem to feel more confident and more independent while learning new words and expressions. What is more, kids work together which means that they develop a sense of cooperation. Thanks to crafting, pupils appreciate the surrounding world and learn the value of various objects because even a pebble or a piece of felt can be turned into little masterpieces.
Note: This article by Anna Musielak originally appeared as a guest post on Teaching Village, and is licensed under a Creative Commons, Attribution-Non Commercial, No Derivatives 3.0 License. If you wish to share it you must re-publish it "as is", and retain any credits, acknowledgements, and hyperlinks within it.