Community, Collaboration, and Leadership at Nakasendo 2012 (by Chuck Sandy)
Every once in a way you hear someone say something so true that everything inside you shifts a little. Lights go off in your mind. Pieces of things you've been thinking about for years suddenly get tied together, and all at once you wind up with a new frame for the window you use to see the world.
This happened to me a few years ago when I heard community activist Bob Stilger say, "every community is full of leaders just waiting to be asked to step forward". Those words from Bob helped me to reframe and redefine my thinking, the same way that Steven Herder's now famous statements about collaboration did. When I first heard Steven say, "Anything I can do, we can do better (together)" and "collaboration provides just the right amount of pressure to get things done" similar bright lights went off inside me as a new framework took hold. It is now not too much to say that these statements have come to define how I think about community building, collaboration, and leadership.
With this new framework in place, I started seeing leaders everywhere I looked and began seeing the ways that leadership works within all kinds of different communities. In every community, leaders emerge, helps others grow, then steps back to let others lead. It's a beautiful thing to see and encourage.
One of the most wonderful examples I have seen of all of this in action on a very grassroots level is the Nakasendo community in Japan, which is both an annual conference and an ongoing, ever changing, discussion group that focuses on education in some very broad ways.
According to Michael Stout, one of the original organizers of the Nakasendo Community, "The idea for the Nakasendo English Conference was inspired by the JALT Hokkaido conference, the JALT PAN SIG Conference, the JALT-JACET Conference in Chubu, and the realisation that so many of us belong to more than one teaching and learning association, so we can act as conduits for collaboration between diverse groups and individuals."
I asked Michael to say a little more about this and he explained that the original organizers wanted to organize the conference collectively, treat everyone as equals, and define leadership by who could do what best rather than by rank, privilege, or power within the profession. This vision of an equal world has driven the Nakasendo community since its inception in 2008.
Michael went on to say that though "some people have lamented the fact that Nakasendo has no permanent committee, bank account, or address, this is a strength, not a weakness because it allows for constant challenge and change. Nakasendo is also about giving people chances."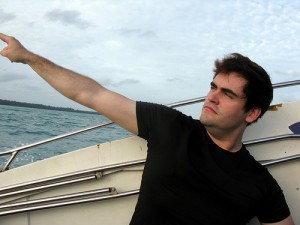 Matt Shannon
Most of the Nakasendo English Conference chairs have had no experience organizing a conference, as past leaders step back to let others have a chance. This year's Nakasendo English Conference, to be held on Saturday, June 2nd at the Urawa Citizen's Hall in Urawa, Japan, is being chaired by Matt Shannon, who is doing a wonderful job of pulling things together.
I asked Matt what he likes best about the experience. His answer did not surprise me. "The people!" Matt exclaimed. He went on to tell me what he likes best about the conference itself. "It's big and wide and refreshing. You're going to learn about the things that interest you, but then you'll get blindsided by all the fresh thinking – either new ideas in fields beyond your familiarity, or by new perspectives on established thought. That person blowing your mind might be a student, or a living legend; they're both there to talk, share, listen, and learn."
Every time I talk to Matt about Nakasendo, he uses the word grassroots. I asked him to explain what this means to him. Matt told me that grassroots means a conference where you don't need organizational backing or an expense account to get in the door. "I can think of very few, if any, public junior high schools that are going to help their ALTs cover conference fees, few home-based educators that are able to enjoy national conferences, and it's a bummer if the people who are established and funded aren't meeting the needs of the greater majority of EFL education in Japan. At Nakasendo, everyone gets in the door, as a presenter, or as an attendee."
"From an organizational perspective," Matt explained, "the advantages are that anyone can come to the table and establish themselves through great work in an officer position, and any group can get involved. We take people at their word, and give them the chance to blossom."
This is my kind of community and my kind of conference so I am very happy that I have been asked to give a plenary this year. The title of my plenary is "Growing A Community of Leaders" and is, of course, all about the same sort of ideas that exemplify Nakasendo. I can't wait to see what sort of community comes together on June 2nd and to watch as new leaders step forward to get things done.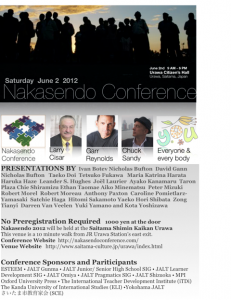 The Nakasendo English Conference features presentations by Ivan Botev, Nicholas Bufton, Taeko Doi, Tetsuko Fukawa, David Gann, Satchie Haga, Maria Katrina Harata, Haruka Haze, Leander S. Hughes, Ayako Kanamaru, Joël Laurier, Aiko Minematsu, Peter Mizuki, Anthony Paxton, Taron Plaza, Caroline Pomietlarz, Hitomi Sakamoto, Yaeko Hori Shibata, Chie Shiramizu, Ethan Taomae, Zong Tianyi, Darren Van Veelen and Yuki Yamanoi along with plenaries by Chuck Sandy, Garr Reynolds, and Larry Cisar. It runs from 9 A.M. – 6 P.M on Saturday, June 2nd. No preregistration is required. The cost is a reasonable 1000 yen, payable at the door. See https://nakasendoconference.com/ for more information.
Note: This article by Chuck Sandy originally appeared as a guest post on Teaching Village, and is licensed under a Creative Commons, Attribution-Non Commercial, No Derivatives 3.0 License. If you wish to share it you must re-publish it "as is", and retain any credits, acknowledgements, and hyperlinks within it.