Copyright, Plagiarism, and Digital Literacy (by Sue Lyon-Jones)
Copyright is a pretty a hot topic in the ELT world at the moment, and many people are discussing it and blogging about it.  The law that applies to using lesson materials or blog posts written by other people is complicated, and teachers often find the various issues surrounding copyright confusing. This post sets out to explain some of the main aspects of the law relating to copyright and fair use as it applies to uploading, sharing and remixing materials for educational use, and seeks to provide guidelines for good practice in acknowledging, referencing  and attributing online sources.
What is copyright?
Copyright gives people the legal right to decide how original work that they have created can be used once it has been published. Contrary to popular belief, a copyright notice does not need to be attached to a piece of work for it to be copyrighted – as soon as the work is published, then copyright applies. In other words, aside from a few notable exceptions (some of which we will touch on later)  somebody owns the copyright to pretty much everything that has ever been published on the Internet.  It is not a free resource bank that people can dip into and use however they see fit!
What is fair use?
Fair use is an aspect of copyright law which allows teachers to use creative works for educational use without obtaining permission beforehand. The rules for deciding whether or not fair use applies are very complicated, and I don't propose to go into them in detail here; however, where educational use is concerned,  it is worth noting that the following conditions need to be met in order for fair use to apply:
1) The work that results from your use of the copyrighted materials needs to be transformative, i.e. substantially different from the original, and offer added value; it can't  just be a copy, or a slightly modified version of it with a few words changed or the odd sentence or paragraph moved around;  and
2) The copyrighted work can't be used in a way that is likely to deprive the original author of income, or any potential income they might earn from the copyrighted works (such as book sales, or income from online advertisements if they run a web-based business).
It should be clear from this that copying or building upon educational materials that other people have written and sharing them online without permission is likely to fail the 'fair use' test in many cases, and that people who upload worksheets and lessons written by others without asking permission first lay themselves open to copyright infringement claims from disgruntled publishers, writers, and illustrators!  This does not necessarily mean that you can never share or build upon educational materials that other people have created; it just means that you need to contact the author or publisher first, and ask for permission before doing so.
Leaving materials that were originally created for educational use aside, the fair use provisions do provide scope for educators to use copyrighted materials for educational purposes in many other circumstances, but it is still a bit of a grey area. Personally, I would always check with the person who created any work that I proposed to use that they were happy for me to use it, to avoid encountering problems further down the line.
What about quoting from blog posts or online articles?
When quoting from blog posts or online articles written by other people, you should reference your quote to make it clear who the author is, and provide a hyperlink back to the post you are referencing so that people can read the original article if they wish to.  Quoting entire posts or large blocks of texts that other people have written within your posts is generally frowned upon and may annoy the person you are referencing sufficiently for them to ask you to remove them! You should quote the minimum amount needed to get your point across, and let your visitors decide whether they want to visit the author's site and read the rest of the article.
Although it's not strictly necessary to reference quotes on your blog in a formal manner unless you are writing for academic purposes, you do need to make it easy for your visitors to determine which parts of your posts are referenced, and which parts of the text have been written by you.
What is meant by the term 'public domain'?
Public domain is a term that applies to creative works which can be re-used by anyone in any way that they please, and for any purpose. Unless there is a notice attached to a particular piece of work that specifically states it is in the public domain, you should assume that it isn't;  and even if there is such a notice, you should still proceed with caution. For example, I've written things myself that other people have copied without my permission and 'licensed' for public sharing, without notifying me of their generosity either before the fact, or afterwards 😉  Unfortunately, you can't always trust people who upload things to the internet to know the difference between copyrights and 'copy wrongs'!
Where can I find resources that I can use for free?
Here are some trusted sources for finding public domain content that I recommend taking a look at:
1) USA.Gov  
Under US law, any works produced by the US government and its employees are in the public domain. A public domain website which contains a lot of interesting and useful information which can be adapted for use for English language learners.
2) Voice of America  https://www.voanews.com/english/news/
Another great site for finding free, public domain content for use with English language learners.
A comprehensive collection of public domain clipart, which can be used without restrictions.
A vast archive of free e-books that have entered the public domain because their copyright has expired.  Includes many timeless children's books by authors such as Lewis Carroll, Hans Christian Andersen, and the brothers Grimm.
Important note: even sites that offer free or public domain content sometimes feature copyright images that have been licensed to them for personal use only, so make sure you check that any images that accompany texts don't require permission from someone else before you use them.
5) Morguefile
Not public domain, but another great site with free images: (although check the licence terms first!) One of my favourite sites, with a  huge range of professional quality, high resolution images.
(with thanks to Lindsay Clandfield for originally sharing this wonderful resource!)
What is creative commons?
Creative commons is a system for licensing copyrighted work under a variety of different conditions. Creative commons licensing is widely misunderstood. Some people seem to think that creative commons is the same thing as public domain, but this is not the case, and there are important differences.  If you plan to use work that has been licensed under creative commons, make sure you read the licence attached to it first and comply with the conditions of use, to avoid unintentionally breaching the author's copyright.
The table below explains the meanings of the symbols used in creative commons licences: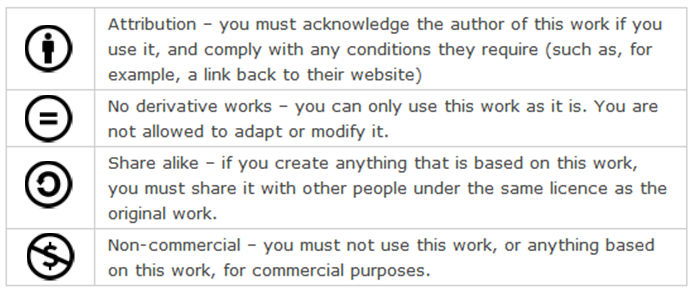 Where can I find creative commons resources?
Once again, it is a good idea to use trusted, reliable sources. Here are some of my top picks for creative commons resources that can be used for non-commercial, educational purposes:
A wonderful collection of images submitted by English language teachers via twitter, for English language teachers to use in the ELT classroom. Curated by Victoria Boobyer, Carol Goodey, Vicky Loras, Fiona Mauchline and Sandy Millin.
2) CAPL Culturally Authentic Pictorial Lexicon
Another useful, authentic collection of photographic images designed for use with English language learners.
3) ELLLO              
An excellent online learning resource in its own right, the text and .mp3 files on this site can be downloaded and distributed for educational, not for profit use, under a creative commons licence.
4) LibriVox                                          
A nice collection of free, downloadable audio books, read by ordinary people with a wide variety of accents.
Tips for good practice when re-using other people's work:
Always check that you have permission to use work that others have created, and ask for permission before you use it
Remember to credit your sources
Provide a web link to online sources, whenever possible
Check that you understand any conditions attached to creative commons work you use, and make sure that you comply with them
Make sure you clearly reference any quotes you use, and link back to the original article
If you do find yourself in a position where you have forgotten to give someone credit, apologise and make an effort to put things right. Most reasonable people will be happy with that
What is plagiarism?
Plagiarism is copying or slightly adapting work that other people have created, and intentionally passing it off as your own work.  Academic plagiarism is frowned upon in many cultures, and engaging in it can damage both your reputation and career prospects. It would be a mistake to assume that academic plagiarism is the only kind of plagiarism that matters, as casual copying of lesson materials and blog articles without attribution is just as much of a problem, if not more so. A big part of our job as educators is to provide a positive role model for learners, and plagiarising other people's work sets a very bad example which sends the wrong message to students.  As Marisa Constantinides points out in her recent  blog post  "Dear Plagiarist"  there really is no place for teachers who plagiarise other people's work to hide anymore, and anybody who does so is merely living on borrowed time.
What can I do if someone copies my work without permission?
Nobody is perfect, and we all make mistakes from time to time. Teachers lead busy lives, and it may simply be that the person who used your work intended to give you credit, but it slipped their mind. Awareness of copyright varies widely, and some people might not realise that it is wrong to copy and paste or upload materials that other people have written without asking permission first.  A polite email to the person who has used your work without permission will often resolve things without too much fuss.  If you don't get a reply or the person who has copied your work refuses to budge, then you need to consider whether to let it go and move on, or take things further. If you feel strongly enough to want to pursue things, there is a very good article here that explains the options open to you and outlines the various steps you can take to have infringing content taken down from people's websites or blogs.
Conclusion
Copyright and plagiarism is an important aspect of digital literacy that all 21st century  teachers need to be aware of. When you upload materials to the internet you are sharing them with the wired world; not just your offline colleagues and your students! As with all other aspects of professional life, it pays to adopt good practice and be transparent about the sources for any materials you use that other people have either created, or played a part in creating.
References, and further reading:
Dear Plagiarist, by Marisa Constantinides
The Edubloggers Guide To Copyright, Fair Use, and Creative Commons, by Ronnie Burt
How Do You Feel When Someone Copies and Pastes Your Post?, by Sue Waters
What Do You Do When Someone Steals Your Content? by Lorelle on WordPress
Note: This article by Sue Lyon-Jones originally appeared as a guest post on Teaching Village, and is licensed under a Creative Commons, Attribution-Non Commercial, No Derivatives 3.0 License. If you wish to share it you must re-publish it "as is", and retain any credits, acknowledgements, and hyperlinks within it.