Why I Love Teachers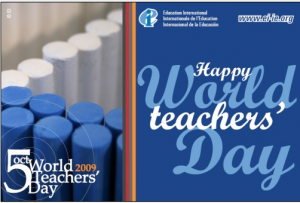 There are teachers, and there are Teachers. I respect anyone who steps into a classroom, but I adore educators for whom teaching is as much a vocation as a job.
Why?
Because when Teachers go on vacation, they look at ways to exploit their adventures for students. Whether collecting foreign magazines for language class, or foreign coins for math class, or postcards for geography class, Teachers always look for inexpensive ways to make learning more interesting and relevant.
Because Teachers know that The Voice is a super power to be used wisely.
Because Teachers believe that strong coffee (or tea, or energy drinks) can substitute for sleep when they've stayed up until 3 am on a school night to attend an online workshop in another time zone, or to play with a new tool that just might have potential for students.
Because Teachers have Facebook friends who are half their age, and it's not creepy. They answer homework questions from these friends until the wee hours (and again pretend that coffee, tea, or Red Bull is as good as sleep).
Because Teachers support other teachers. It's not that Teachers are always one, big, happy, egalitarian family. There's a hierarchy that ranges from (roughly) Ph.D. weilding professors in "real" subjects at the top, to bilingual Teachers working with children at the bottom. However, Teachers take pride in their profession, and in colleagues working to strengthen that profession, particularly when it seems that they're the only ones who actually consider teaching to BE a profession.
Because Teachers manage to smile rather than scream when facing non-Teachers who think the "people who can't, teach" joke is funny. Ditto for dealing with people who assume that teaching was their fall-back job.
Because Teachers turn every freakin' thing they touch into an educational opportunity. Teachers looked at World of Warcraft and thought, this just might motivate reluctant learners. They visited Second Life and said, "Cool place to teach! Look at the potential here!" They looked at Skype and saw a way to connect their students with the world. They looked at Twitter and said, "Great way to share resources!"
Because Teachers fight passionately for education ideals–to include technology, to exclude technology, to abolish standardized tests, to improve standardized tests, to open classrooms to the world, to protect children from the world. But, at the end of the day, Teachers work to help students succeed within whatever reality they face.
Because Teachers are reading this and wondering why I'm making a fuss about the things they do every day. Because they assume that other teachers would do the same, if they were able to. Because they can't imagine doing anything but Teach.
Happy World Teachers Day! Thank you for inspiring the world's children.