When Did I Become a Teacher? (by Conchi Martínez de Tejada)
It's difficult to pinpoint the precise moment when you become a professional in your area. Some will say it's when you start your degree, others when you finish it still others will say it's when you start working. Even more people feel that they need years of experience in order to consider themselves a so-called professional.
In my case, I don't know when I became a teacher. Maybe it was when my parents hung a blackboard behind my bedroom door. Maybe when I first arranged all my teddy bears and my little cousins as my first students. It might have started many years later when I wanted to drop out from my dreary Economics degree and I bought books about teaching, but I didn't have the courage to actually follow through on my instinct (fate, desire, willingness) at that time. Maybe it happened when I left my bank job, went to Yemen and by chance ended up in front of 20 Yemeni men teaching them English. It might also have been when I came back to Spain from living in Laos and I studied Education. Or maybe it started a month and a half ago when I got my position to work in a primary school in a village in my home region of Extremadura, Spain.
Whatever the case is, whether or not my first students were my teddy bears, the Yemeni men or my current 7 year old students, I feel that my teaching career has evolved and been shaped by the countries and different kinds of students that I have had the pleasure to teach.
I started teaching adults in Yemen speaking rusty English and I found myself turning the pages of a coursebook and following word by word the instructions of the teaching guide. I took tips from other more experienced teachers and filled a bag full of activities that were ready-to-use at any time when I was in front of a class.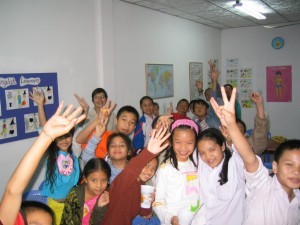 Years later I found myself in Laos teaching English to children. Again with a coursebook in my hands and my bag full of activities and now with even some years of experience, but all the same, I found myself helpless. Many will say that if you are a teacher you can teach both adults and young learners, but I disagree.
My first month or two in Laos I simply couldn't understand why children couldn't remember a word we had just learned. They could repeat it very accurately, better than adults, but forget asking them about that word five minutes later because they were not going to remember it. I learned that children need to experience learning, they need to see things a million times in a million different ways and they need to use all their senses. I was suddenly a master at singing, dancing, craftmaking and so on, not out of talent, but of necessity. At that point I decided that I wanted to come back to Spain and take an Education degree to actually know what I was doing instead of experimenting with (or better said on) children. My trial, test and mostly error was wasting their time and their parent's money.
Most of my teachers in university during my Education degree taught me, probably without knowing, not what I should do, but what I shouldn't do in a class. To be fair, I did have some teachers who opened my eyes to different learning styles, intelligences, the cognitive developmental stages of children and also how to deal with children with special needs. Teaching a foreign language to children is a completely different story than teaching adults. They learn in completely different ways. It is true that you can use some of the same techniques with children as you do with adults, but that doesn't mean that you are doing a good job.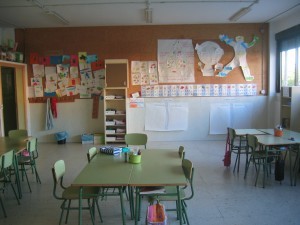 On the 23rd of September I started as a Year 2 teacher in a public school in a small town in Extremadura. I teach English (two hours a week) as well as other subjects to the Year 2 students and also 2 English classes of half an hour a week to students of 4 years old. My new challenge was set.
If approaches should be different between adults and young learners, there is also something to say about the learning differences between young learners and very young learners. In my case, I have a coursebook for my Year 2 class but I don't have one for the preschool students. With my Year 2 students, the fancy coursebook with stickers included almost does the job on its own. Every unit is designed around one topic, and they make a picture dictionary with stickers of pictures of the main vocabulary. On top of that there are card games, spinners, puppets and board games. The book also includes a CD with all the listenings and a CD Rom for the students to use at home or in the computer room at the school (every class has an assigned time to use it and in it we also have access to an Interactive White Board). A third of my students received these books for free from the school through scholarships (the rest pay for all their books). This ensures that everybody is equipped with brand new stickers and unused activity books.
These all-in-one books are designed for everyone. From experienced teachers to novices, native teachers or for teachers whose mother tongue is not English and among the later with those fluent in English and with those with little English, the one size fits all model seems to work. This is the beauty of these coursebooks but the beast is that the same topics are SEEN every year but not in depth to be meaningful and connect to students' experiences and interests.
Without a coursebook to follow for the 4 year old students, there is space for experimenting. The school could have suggested that we use a book for them too, but in general parents find the expensive preschool English books full of colourful pictures and empty otherwise. Many Spanish parents hold the view that learning is only accomplished through writing and loads of homework. I asked for advice from the teachers of the 3 year old students and also of the 5 year olds, and I saw that they were also hitting their heads on the wall, because (as had happened with me in Laos) they were trying to teach the little ones with activities more suitable for older children or even adults. If young learners are dealing with learning how to write and read in their own language, very young learners are dealing with motor skills.
I took the long way to finally become a teacher and now I am in front of 22 little ones who look at me and hopefully trust me with their learning. With no coursebook available for the 4 year olds, I have started to explore another ancient tradition, the storyteller. In Jamaa El Fna Square in Marrakech you find hundreds of people wandering around and listening to stories, something so ancient and vital to humanity that it receives special consideration by UNESCO. You find the entertainment industry selling millions of copies of DVD stories and tales for children. I wanted to explore the magic of stories with the little ones so I bought a big book version of Bill Martin's "Brown bear, brown bear, what do you see?" I read it the first day and didn't get such an enthusiastic response, but I couldn't understand why. Not having many other options available the next day I told the story again and again and again. Later, things became clear. Look at a child choosing a book to be read to them or a movie to watch and you will realize that they always choose the one that they have heard or seen a million times, much to the desperation of their parents.
Then yet more was about to be discovered. Day after day I walked into my Year 2 class with my huge version of "Brown bear" and the students' curiosity grew until one day when they asked me to read it to them, too. Now, by popular demand, every single English class has to start with our friend the brown bear and even the fancy stickers don't seem to be as appealing as our dear bear friend.
It's all a learning process, not only for the students but for the teachers too! (maybe more so) It's been a long journey just to get to this point, and surely I will learn a lot more, but for right now I'm happy just wandering around the school and hearing "Brown bear, brown bear" sung by the students in classes and on the playground.
Note: This article by Conchi Martínez de Tejada originally appeared on Teaching Village, and is licensed under a Creative Commons, Attribution-Non Commercial, No Derivatives 3.0 License. If you wish to share it you must re-publish it "as is", and retain any credits, acknowledgements, and hyperlinks within it.