Bring Language to Life in Your Classroom (by Karen Frazier-Tsai)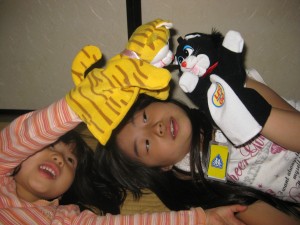 Whenever I teach, I do all I can to present language so that it comes to life for the students. As an English teacher, I instantly become an actor in order to convey meaning for any new language being taught.  I recall the first time I was teaching in a classroom in Taiwan, where every student spoke the same language. In order to communicate with beginning and elementary level students, clear gestures and the use of realia were essential. These helped create a context for the language so the students could grasp the meaning.
I have found that one of the most effective ways to bring language to life for your students is to use puppets in your classroom. Puppets have a magical effect on children and help transform the introduction of a basic question and answer pattern into a fun and interactive exchange.  Young children are quite captivated by puppets because they want to see what the puppets are doing, and they want to hear what they are saying. Even older students are attracted to a lively exchange between two puppets.
Puppets can model new language patterns and will help your students better understand how language is used in a dialogue as well. As puppets act out the language, children become motivated to learn because the puppets bring animation and fun to your English lesson.
I have had shy students who are reluctant to talk aloud, and I'm sure you have, too. If you use puppets, you will find that they help shy students come out of their shells and become less self-conscious about talking. Puppets can guide the students in their language practice in a non-threatening way.  As the students watch and engage with the puppets, they lose some of their inhibitions and become more confident.  So, all of your students, even the shy ones, will take a risk and develop a more active interest in trying out new language patterns. They will also be more willing to practice other language that they know when you use puppets.
Tapping into the way our students learn
One of the most compelling reasons for us to use puppets in today's EFL classes is that they tap into the way many of our students currently learn. Almost every day, our children tune into some of the visual cues found in children's TV programming, hand-held and online games, and music videos. Today's children are so used to having visual cues that enhance their learning, as in TV and online classrooms, that they need lessons which combine visual with auditory learning. They are much more motivated and seem to engage more quickly when they can watch and listen to an actual demonstration of the new language they are learning. As a result, having puppets and animated teaching as part of your lesson will make the language come alive in your English classroom.
Note: This article by Karen Frazier-Tsai originally appeared on Teaching Village, and is licensed under a Creative Commons, Attribution-Non Commercial, No Derivatives 3.0 License. If you wish to share it you must re-publish it "as is", and retain any credits, acknowledgements, and hyperlinks within it.