Bringing Happiness to the Classroom (by Vladimira Chalyova)
What is the meaning of life? To be happy and useful.
– Tenzin Gyatso, 14th Dalai Lama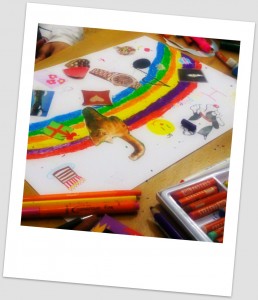 A real authentic smile of a student is worth every single minute you spend on giving them a reason for it.
It's not always easy to have really happy and cheerful students and perhaps some could even think of it as just something extra, something that comes only after "filling their buckets with information". However, I strongly believe that teaching students starts with helping them to be happy and comfortable with everything that happens in the classroom — at least.
Somehow, from the very beginning of my teaching career, I have always tried to start with a smile and  give my students reasons to smile. Nevertheless, it was this year sometime in April when I felt like it would be worth focusing more on happiness with my students and maybe even using it as the content of a lesson. It was the time after the big earthquake in Japan and even though we were not directly affected in Slovakia, I wanted to do something to help my students enjoy and be thankful for even simple little things that can make us happy and grateful. We talked a lot about their first impressions and ideas that come to their minds when thinking about what makes them happy. Later we focused on more abstract things and discussed the value of those. Along the way, I created a kind of lesson plan we used later.
What I learned while working with my students on "happiness" is that it can be a slow process but if we believe this is the generation to change the world, it is definitely time well spent. And of course they learn so much on the way. They learn not only new words to describe what they want to say but also ways to express their opinion, listen to the ideas of others, agree or disagree and also explain something really personal as well as how to be sensitive to and understanding about what others say. I feel this makes them not only happier but also better and more open people as well and that's surely an important though often overlooked goal of education and an amazing way to make sure students experience learning to the fullest.
I later discussed the lesson plan with Chuck Sandy and we came up with more ideas to use in the classroom. Later on other teachers embraced the idea and found some potential in it as well and that makes me happy too. Chuck Sandy, Shelly Terrell and Barbara Hoskins Sakamoto took it even further by making it the centerpiece of their upcoming JALT 2011 presentation on the power of connection and collaboration. Chuck, Shelly, Barb and I have created The Happiness Project and are asking students and teachers from around the world to create a poster showing what makes them happy and post it on the site.  Already this is becoming a wonderful display of happiness which we hope to continue into the future with a huge collection of happiness – a place where happiness really resides and serves others as a source of happiness they can find in themselves.  We hope you and your students will join The Happiness Project, too. Visit the website, find out what happiness means for others and share yours.  That would make us very happy.
Note: This article by Vladimira Chalyova originally appeared on Teaching Village, and is licensed under a Creative Commons, Attribution-Non Commercial, No Derivatives 3.0 License. If you wish to share it you must re-publish it "as is", and retain any credits, acknowledgements, and hyperlinks within it.