Rice in Japan and Rice Around the World (by Bob Middleton)
Bringing food topics into the language classroom is one way to stimulate language learning as well as hungry appetites. 9 and 10 year old students in the 5th grade of our elementary school in Japan take part in an 8-hour lesson on varieties of rice in Japan. This Japan-unit is later followed by a similar one on rice around the world. In the lesson they will learn names and kinds of rice, the amounts of rice grown around the country, prices per kilogram, special dishes, and special points about each of the rice varieties. The end result will be a hand-made Japan rice book including a small sample of each kind of rice
.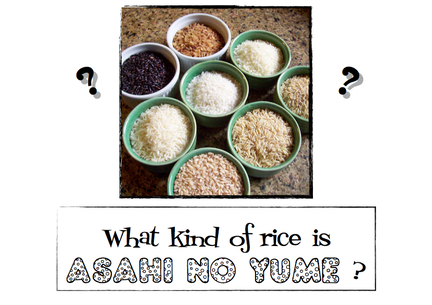 Special points about the rice
Special information is distributed to the 8 groups in the class in Japanese and English, thus making them a 'rice masters' for that rice variety and location. Through a series of class-to-class interviews with learners from the other groups, students gain a better understanding of rice around Japan. Slowly the book takes shape. A further incentive for the students is to encourage other groups to want to try their variety by promoting the rice's special points. At the end of the 8-hour unit, students will have a chance to taste the winning variety. The students will continually visit each of the other groups and exchange the information in English about the rice and enter it into their books.
The special points of information are also given to the children in the group in Japanese and they choose which ones they would like to use to 'promote' their rice from between 5 to 10 choices. Children use bilingual dictionaries and help from teachers and friends to translate the points to English. This section of the unit takes 2 to 3 classes to prepare and deliver. The final promotional presentations are done pair to pair with posters, mini-theatrics, and short stories. This is more spontaneous language use than the information gathering done in earlier classes.
Special points were also introduced in the first class of the unit when a colorful table full of authentic products made from, or containing rice, were presented for a 'three hint quiz' game. These included rice cakes, cereals, crackers, and sweets as well as more difficult things like makeup and soap. Many students were pleasantly surprised to learn at the end of the class that all the things contained rice.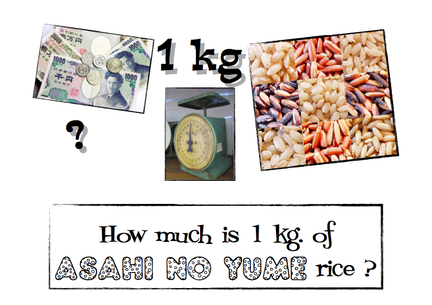 What can you say?
*Note that some of  the language items are recycled from earlier lessons. From grade 3, the students have English classes twice per week. From grade 1, the lessons are once per week. I will use Gifu Prefecture, one of the areas of Japan that produces local rice, as an example. Questions and answers presented to the students that contribute to language learning include:
Where are you from?
I'm from Gifu.
What is the rice's name in Gifu?
It's Asahi no Yume.
How much rice grows in Gifu?
120,000 tons.
What kind of rice is Asahi no Yume?
It's short grain rice.
How much is 1 kg. of Asahi no Yume?
It's 700 yen.
Can I have some Asahi no Yume rice please?
Sure. Of course. Here you are. (This is a sample of the rice)
Can I have an Asahi no Yume rice bag please?
Yes, here you are. (This is a small photo card of the package)
Thank you. Good bye. See you. Have fun!
Special points for this variety include:
What are the special points of Asahi no Yume rice?
It's good for sushi and gohei mochi (a sweet rice snack with miso, walnuts, and sugar in Gifu.)  It's strong against disease. It's tastes good hot or cold.
How does it connect to the learners?
The units mirror similar content that the 5th grade students learn in social studies classes. In our area local farmers help the children plant and grow rice in the spring. This rice is later harvested in the fall and shared with the farmers for a delicious curry and rice lunch. Our homegrown English study curriculum uses content from the regular studies to incorporate elements of content and task-based learning. So in this unit they learn more about Japanese geography and social studies, along with polishing their presentation and artistic skills.
The world rice unit changes course a bit by finding the location of the countries on a map first, matching flags to countries, and matching photographs of people form the region. Also, as most Japanese rice varieties are short grain rice, a new surprise is that world rice can vary in size and shape; Italian rice being round, Canadian 'wild rice' being dark brown and not actually a rice, and some having a sweet aroma when cooked.
What else could you do?
In other variations of this rice unit, students have made quizzes from the information they have collected and presented them to their friends in English, again recycling both the language and the content points of the unit. In making original quizzes it is believed that learners will become more aware of how areas of study can be recycled in a creative way, leading to a better understanding of the topic.
What we would like to see is more student initiative on the rice topics of study, the rice facts and information they gather. I can imagine similar units on local foods such as fruits or produce. Adults may enjoy topics on wine, beer, and cheese taking the place of rice in other countries.
The combination of pair and group-work activities learning about rice makes for an exciting atmosphere that helps connect the outside world to the language classroom and our learner's everyday lives. And the adventure of discovering new things while exploring a new language might be just the right dish to share with your class.
Note: This article by Bob Middleton originally appeared on Teaching Village, and is licensed under a Creative Commons, Attribution-Non Commercial, No Derivatives 3.0 License. If you wish to share it you must re-publish it "as is", and retain any credits, acknowledgements, and hyperlinks within it.