Creating a Buzz in Teens' Classrooms (by Mari Nakamura)
"Aren't teenagers too self-conscious to speak English?"
"Do they care about the contents that do not appear in their school tests?"
"Well… I wouldn't want to get into that area…"
I have been teaching teens as well as pre-school and elementary school children at my language school, English Square, in Japan, for the last 20 years. When I tell my teacher friends about it, I've almost always met the responses like the ones above.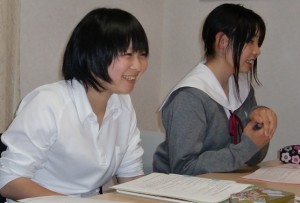 Actually, teaching teens has been a lot of fun! They are growing at an amazing rate, intellectually, emotionally and socially, and I have learned a lot from them about what the world looks like through their lenses.
In this small article, I would like to briefly discuss what sort of teen curriculum I have at my school and why I've designed the curriculum that way. Then, I will share one of the recent lessons with them.
Teen Curriculum at My School
Teen lessons at my school are topic-based, and students spend most of the class time on using English as a tool for communication. In many lessons I use real information on the Internet with the aim to help my students feel that English is 'alive.' I speak only English in class, and don't teach grammar explicitly in these classes or ask them to translate English into Japanese.
Several years ago, I met a theory that had a great implication on my curriculum for teens: The Four Strands (Nation, 2007) advocated by I.S.P. Nation.
This theory informs us that a well-balanced language course should consist of four roughly equal parts:
Meaning-focused Input
Meaning-focused Output
Language-focused Learning
and
In a typical high school in Japan, however, the most of the instructional time is spent on language-focused learning. Through the talk with my students, I have learned that it is even more so at academically competitive high schools. Also most of the curriculums at public schools use a discrete point approach in teaching vocabulary and grammar, and learning strategies are very rarely taught. One of my students gave me this spot-on comment on what it is like at his public school – "We approach English language much the same way as we solve math problems."
Compare these diagrams.
In an ideal classroom as suggested by I. S. P. Nation …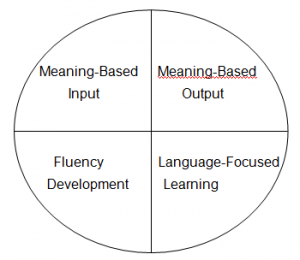 In many of the high schools in Japan?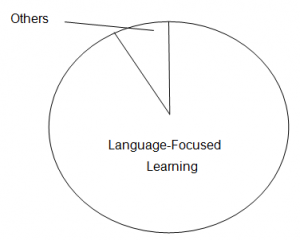 Being informed by the theory and input from my students, I've decided that my curriculum should offer:
Lesson contents and activities that encourage meaningful interaction
Systematic scaffolding to promote interaction and learning strategies
and
Relaxed and positive atmosphere where every student's input is valued.
A Video Lesson ~ Penguin Goes Shopping ~
Let me introduce you to one of the video-based lessons conducted at my school.
Take a look at the following video, and imagine how you would plan a lesson for your teen-age students based on it!
Did this video make you smile? I'm pretty sure it did – even my teenage students smiled!
Here's how I did a 60-minute lesson using this cute video.
LESSON OBJECTIVES
To talk about their thoughts on penguins and pets with confidence
To practice note-taking skill though a video viewing task
To write a short report on the video and share it orally with classmates
To find a positive point in a classmate's writing, and communicate it orally
CLASS
A small group of students ages 14 to 16.
PROCEDURE
A: Before You Watch (for fluency development)
Students discuss their ideas on penguins and pets in pairs using the language they already have. The goal is to generate their interest in the topic and to promote oral fluency development.

After giving them the time to discuss in pairs, I ask a few students the above questions and a couple of follow-up questions.
B: While You Watch (for meaning-focused input and output plus strategy practice)
After watching the video once for overall understanding, students watch it a few more times while taking notes referring to the worksheet below. Comprehension of these key points naturally works as scaffolding for the next essay writing task.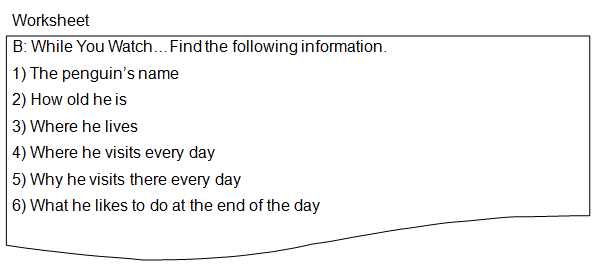 A note about note-taking: Japanese students tend to believe that whatever they write, it has to be perfect in terms of grammar and spelling. I remind them that the note is for their own reference, and that they can take a brief note, perhaps with a few words or phrases. I also tell them not to worry about spelling.
After each student has completed the task, they discuss their understanding in pairs. Finally, I go over each point quickly as a whole class.
C: After You Watch (for meaning-focused input and output)
Students write a summary of this video report, imagining how they would talk about it to their friend. The addition of this "sharing with friends" element will make this task more engaging to teenagers than otherwise. This activity also works as scaffolding for the following oral communication activity.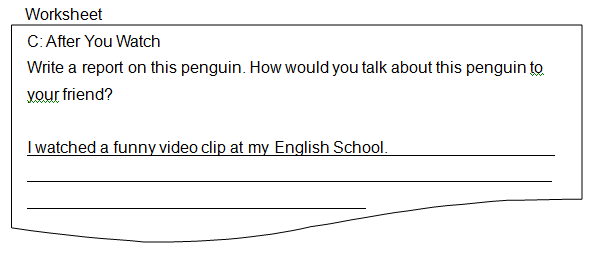 After the students have completed this writing task, they work in pairs, and present their summary to their partner orally. The key here is that they make eye contact while talking which learners are not very good at.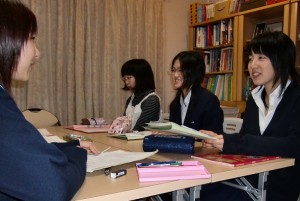 After that they exchange their worksheets, underline one expression or sentence that he/she found especially fun or interesting in their friend's report.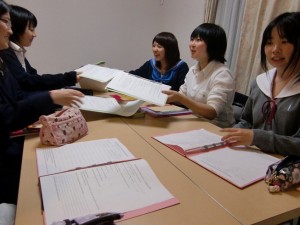 Then they put the worksheet back to the writer, and discuss why he/she chose the phrase or sentence.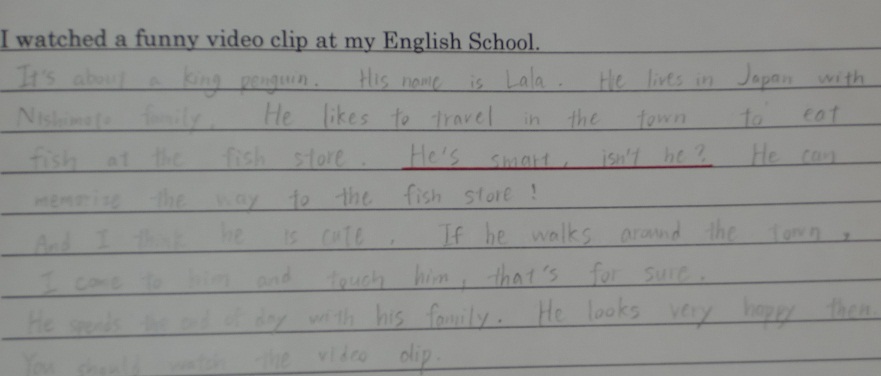 The series of tasks in this post-viewing activity provide the students an opportunity for "pushed output" – to turn their receptive knowledge into productive use in a social context.
Final Comment
Teenagers in Japan have extremely busy schedules with club activities and studying at cram schools, and are often stressed out. Perhaps it is the same in some other Asian countries? I take it as a good sign if my students look happier and livelier when they say good-bye to me after a lesson than when they entered my classroom. The lesson above was a successful one in this regard.
It will be my great pleasure if you have found some useful information in this small article. I would also love to hear what you all do to create a buzz in teens' classrooms!
Thank you very much, Barbara, for giving me this wonderful opportunity to share my ideas with colleagues around the globe.
Reference:
Nation, I.S.P. 2007. The four strands. Innovation in Language Learning and Teaching. 1,1:2-13.
Note: This article by Mari Nakamura originally appeared as a guest post on Teaching Village and is licensed under a Creative Commons, Attribution-Non Commercial, No Derivatives 3.0 License. If you wish to share it you must re-publish it "as is", and retain any credits, acknowledgements, and hyperlinks within it.