Teaching in a Buddhist Monastery in India (by Anna Greenwood)
I am teaching in a Tibetan Buddhist monastery school in India. The area surrounding the school is rural; we have fields of ginger and coconut trees. The school is provided for the monks that live in the monastery and is entirely funded through the monastery. I see the students for one class a day. There are no out of school activities; these students study Buddhist subjects both before and after school.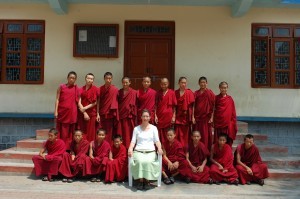 The students range from 12 to 20 and ages vary widely in each class. They are often from poor backgrounds and large families. Many are a long way from their home country and have not seen their families for many years. Parents are not involved in the children's schooling; each monk student has a 'teacher' who teaches them daily life. The classes I teach range from 13 to 19 students (and the school dog that occasionally joins us) and English is compulsory. In India, English is typically used for teaching, and classbooks are written in English.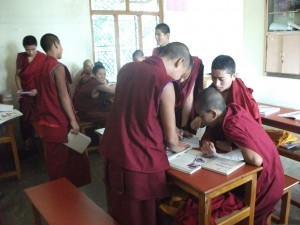 I am here for a single semester and there are very few visitors to this area, so speaking English is the students' main interest in these classes. There is a text book which we follow, and I use TEFL methods to pre-focus on a reading text as well as comprehension questions to practice. I have less than one year's experience. There are a photocopier and printer at the school office, and in the classroom we use chalk and blackboard. Students sit and move around during class. I also use craft materials, and regular dramas related to the course work to practice speaking the language learnt. Classes are 45 minutes from Wednesday to Monday. There is one day's holiday on Tuesday. The students have little time for homework.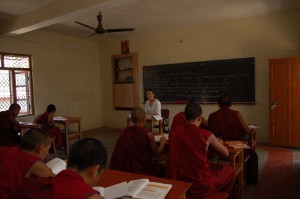 I took the TEFL course one year ago in Nepal, and found work in schools. The TEFL course used practice sessions in local schools and I made contacts this way. Some teachers in this country are unqualified, others have B.Ed.. I would like to do more drama with the students. Also I would like to talk face to face and share with other TEFL teachers, however there are none here. I use the Web for plans and ideas and I find this resource extremely useful.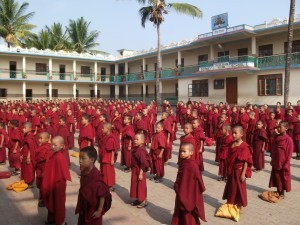 The students are motivated to learn and spend all day studying both inside and outside of school. The monks are sincere in their efforts and manage their own classroom behaviour. They live and study together and there is a simplicity and cohesiveness in the classroom.
Note: This article by Anna Greenwood originally appeared on Teaching Village, and is licensed under a Creative Commons, Attribution-Non Commercial, No Derivatives 3.0 License. If you wish to share it you must re-publish it "as is", and retain any credits, acknowledgements, and hyperlinks within it.