Benefits of online learning (by Zahra)
I'm very happy to be starting a new series with this post: Student Voices. Zahra is a member at English Club and has been kind enough to share what she likes about learning online. I hope to see many more posts that offer a glimpse into learning from our students' point of view. If you know of other learners who might be willing to share their experiences with us, please let me know. ~Barb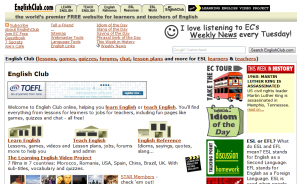 Benefits of online learning (to be more specific, learning English online at groups like English Club)

1- You have more freedom along with a broader scope of motion!

Despite when you clothe to go to an English class with severe discipline and you have to remain seated in a not that comfortable chair, in a virtual space you can feel free to keep practicing English wherever you like and whenever you feel for it (in case there is no problem with your internet connection). Even in a private class at home, you won't feel as free as you do in a virtual space. You need to observe fewer rules to be able to be a part of an English community in the internet.
2- Not only are there lots of enthusiastic learners of different levels, but also there are many native speakers and kind teachers around you in the group.
You have the opportunity to meet different people from almost all over the world who are simultaneously benefiting from the same group, just like you. You can communicate with them in a friendly environment. You can exchange ideas on different issues; thus you can learn lots of vocabulary on different subjects such as music, nature, politics, motherhood and so on. Learners can be rectified with the help of more advanced learners or kind English teachers and native speakers. But at the limited space of a class at your hometown, you wouldn't have such an opportunity, would you?
3- It's a multimedia space where you can express yourself.
In groups such as MyEC, not only through writing, but also through voice, videos and pictures, you can practice English. Isn't it interesting to have this broad scope? You can also find chat rooms to practice speaking, let it be in written words or in vocal words. You have the chance to be able to talk to native speakers, too. So online learning supports all these benefits.
4- Not only you practice English, but also you learn about other cultures and other different points of views.
When you "sign a contract" to be a member of an English-learning group, in other words, when you sign up in a website to practice English, you are exposed to a new world. You can find peoples of different cultures and minds. You can all exchange views on different issues. Thus you can improve your life. You can get familiar with other human beings which think not like you. This is so beneficial to your life, isn't it? you can learn how to treat when faced with opposite thoughts. This makes you more patient and well-behaved. You learn interesting differences in different cultures. But at your hometown, your classmates are mostly within your culture and country.
5- Almost no stress or pressure is on you.
You yourself decide to start learning online. No one forces you to study. This lessens pressure and makes your learning more fun and enjoyable. No teacher to make you write homework. No one to punish or scold you when you don't make progress. No rating or scores. All up to you to learn or not. Your mind is at peace, thus much more ready to accept English so friendly , without pressure and conflict. You just enjoy. Isn't it so? You can listen to peaceful music while you are searching for info on English stuff you like. You are as free as a bird.
6- When you have internet access, you can have more dictionaries and encyclopedias at hand.
Online learning is so pleasant ; it lets you have more confidence having dictionaries and search engines around you. You can look up not only your new words, but also unfamiliar proper nouns and new technical words. So it helps you better comprehend a text. Without internet access, even if you have your tutor , dictionary and encyclopedia books, you may not get what you need to know. Your teacher knows a lot, of course, but he/she doesn't know everything. Even your books may not be that updated to include recent technologies as well as older info. Moreover, correct spelling and pronunciation of the words are at hand. It's easy to use, to wrap it up.
7- If you are a nocturnal, you know the value of online learning. (this point may seem a little bit weird!)
Some people like to do their chores late at night, esp. there are many who like to study and learn at night. OK, then there is no way other than online learning. Though you can learn through books , too ,there are no teachers or native speakers around you at night, are there? This benefit may seem not that important, but when we speak of learners who go to work during the day and can't find time then to go to any classes, then we can see how important this no.7 is. There are also mothers or fathers who are busy with their kids and the only time they may find to devote to their learning is at night. So I think, online learning has this benefit, too.
That's the gist of my opinions and experiences throughout my online-learning life (learning English, specifically). I may have missed some other points. That's all what came to my mind for now.
Thanks for your attention,
Have a beautiful time
🙂
PS- To share a little bit info of myself, I invite you to my profile page in MyEC.
Note: This article by Zahra originally appeared on Teaching Village, and is licensed under a Creative Commons, Attribution-Non Commercial, No Derivatives 3.0 License. If you wish to share it you must re-publish it "as is", and retain any credits, acknowledgements, and hyperlinks within it.