Teaching: a love story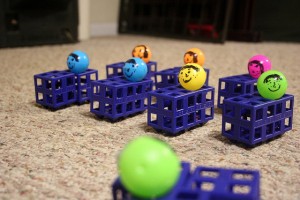 This Valentine's Day, since all the chocolate in Japan goes to men, I'm enjoying spending some quality time with the longest (non-family) relationship in my life: teaching.
I love reading about how teachers become Teachers. I'm fascinated by all the twists and turns Life's path takes people on their journey toward teaching. For example, Karenne Sylvester, Sean Banville and Sue Lyon-Jones never planned on teaching EFL. The profession found them, and we're lucky it did! Over the years, I've met a lot of really excellent teachers who never thought they'd end up in a classroom.
It makes me wish I could share some exotic past adventures that led me to discover a passion for teaching English as a foreign language. Sigh.
Except for two weeks in junior high school (when I wanted to become a flight attendant after an airport field trip) I always wanted to be a teacher. Do you remember playing teacher? I do. I have vivid memories of "teaching" my sister, friends, cousins, and stuffed animals, but none of taking my turn in the student's seat. Not sure if this is a faulty memory, or a very accurate memory of my bossy childhood, but I suspect it's the latter. Conchi Martínez de Tejada and Özge Karaoğlu also started out with "Teddy Bears, friends and cousins" classrooms, so I know I'm not the only one.
When I wanted to teach junior/senior high English, I got a degree, took a test, and got a license. Teaching in other states and at different age levels meant more licenses. This still seems to be the norm for teachers wanting to teach English as a first or second language in their home countries, especially if they intend to work with young learners or teens. Tomo Wakui, Anita Kwiatkowska, and Christina Markoulaki all started out on a similar path in very different parts of the world. It's interesting to see how a fairly straightforward plan (degree first, then teaching job) can find people in very diverse teaching situations (an academic high school, a small village school, and a private language school, respectively).
In addition to reading about how people become Teachers, I enjoy hearing why they like what they do. I wrote a "love letter" a couple of years ago for World Teachers' Day about why I love Teachers and found 50 reasons to love your job as a teacher on So You Want to Teach. It's fun to see that some of the reasons we enjoy teaching cross the lines of subject matter and school environment.
Finally, it seems fitting to finish up my Valentine's Day teaching-as-a-profession love fest with dreams. Scott Thornbury, one of my favorite writers (and an excellent person to be silly with) has a wonderful post on his blog about teacher dreams–those that come from our anxieties and those that bring us creative teaching ideas.
What's your teaching love story? How did you come to teaching? Was it planned or serendipitous? What do you like about what you do? There are so many paths that lead us to interesting destinations–I hope you'll share yours!
And, here's a Valentine's wish that all of your teaching dreams are the satisfying, creative ones!
photo: justmalia (flickr)