Witches, Ninjas, Fairies, Princesses, and Super Heroes
It's Halloween, and time for another class party!
These were my students' cos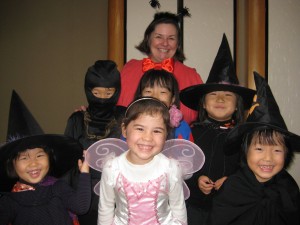 tumes for our Halloween party this year. Considering that dressing up wasn't mentioned, I was impressed that they made such an effort to come in character!
Class parties can be a great reward for learning English. In our case, the theme of the party always closely matches the theme of recent lessons. This Halloween, that meant exploiting vocabulary for body parts because that's what the younger kids have been learning about recently.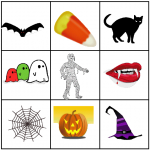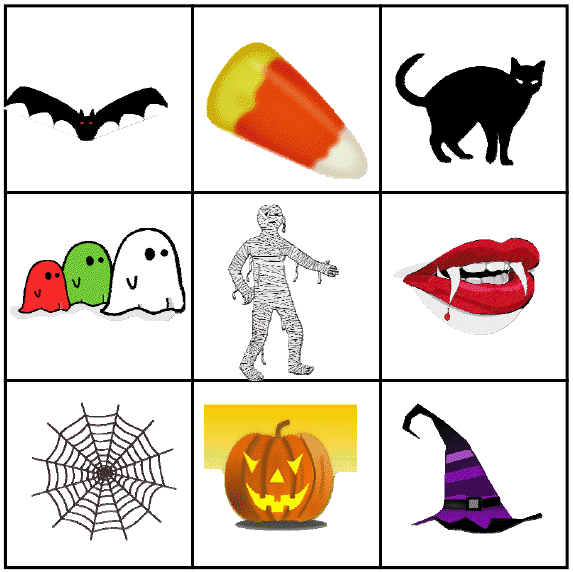 We played Bingo and a memory game (with cards made from free clip art—thanks to @talkclouds on Twitter), but used more familiar words –mouth and head, instead of fangs and skull, for example. If you need a ready-made set of cards for younger children, you're welcome to download mine. They're on google docs.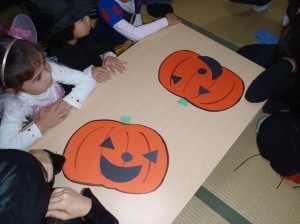 We also played a pin-the-tail-on-the-donkey type of game, but rather than having students sticking pins in various locations on my walls (or on each other), we put the body parts on a pumpkin cut out that was on top of a table. Students were blindfolded, and then given the pumpkin's eyes, nose, and mouth. They had fun trying to put the facial features on the jack o'lantern.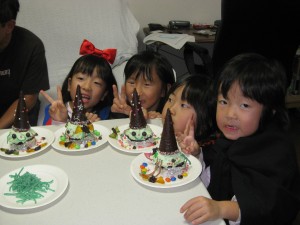 To continue with our body parts theme, students used candy pieces to add hair and faces to their witch cupcakes. After finishing their masterpieces (but before eating them) the children talked about their creations (and how many eyes and noses they'd decided to add to the faces).
Finally, parents stationed themselves at different spots around my house and the children went trick or treating. I noticed parents asking the kids to identify the colors of the candies, or to count the candies as they got them, and everyone had to say "thank you!" I love how the parents made the activity even better. The only unexpected result is that one of the younger children seems to have decided that "trick or treat" is just another way to say "thank you," so I'll probably be hearing "trick or treat" at the end of class for awhile.
I know it's sneaky, but parties are a great way for children to have fun because they learned the language.
If you'd like to see more photos of our party (the cupcakes are definitely worth a peek!) I've put them together in an animoto video.
Happy Halloween!