The Star Festival: Teaching Tanabata in English
Part of the series: EFL Makeovers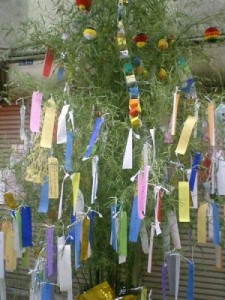 July 7th is Tanabata, or the Star Festival, in Japan. Legend says that Orihime (a weaver, represented by the  star Vega) and Hikoboshi (a cowherd, represented by the star Altair)  are allowed to cross the Milky Way to meet each year on the seventh evening of the seventh month each year. Children often decorate bamboo branches with colorful origami decorations, and their wishes.
The Star Festival is an easy celebration to adapt in order to include Japanese culture in your English classes. You can pick and choose from among typical Tanabata activities to suit your own goals and the English level of your students. Tanabata includes a story about Vega and Altair, a song about the decorated bamboo branches, and (most importantly) the branches with children's wishes!
The story
The story of the star-crossed weaver and cowherd can be as simple or complex as you wish. Basically, after Orihime and Hikoboshi fall in love, they're no longer interested in weaving cloth or herding cows. They're sent to opposite sides of the Milky Way so that they'll get back to work. Once a year, however, they're allowed to cross the Milky Way river to see each other. If it's raining, the river is too high and they can't get across. So, many of the wishes tied to the bamboo branches are wishes for clear skies on the night of the 7th.
The Japan Foundation London Language Center has a version of the story suitable for young learner classes. Children can dramatize the story, or draw their own illustrations.
The song
Mama Lisa's World Blog includes a nice translation of the Japanese song, which I've reprinted here: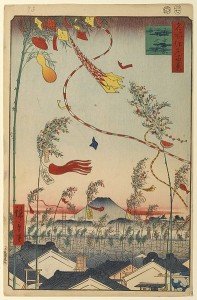 In Japanese Romaji:
Sasa no ha sara-sara
Nokiba ni yureru
Ohoshi-sama kira-kira
Kingin sunago
In Japanese Text:
笹の葉 さらさら
軒端にゆれる
お星様 キラキラ
金銀砂子
In English:
Bamboo leaves are rustling, rustling,
Swaying close to the roof's edge,
Oh, how the stars are twinkling, twinkling,
Gold and silver grains of sand.
Students can also write their own lyrics to the song, using vocabulary they know.
The bamboo decorations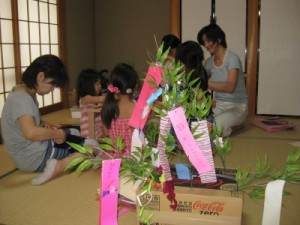 Decorating the bamboo branches is always my students' favorite Tanabata activity.  If bamboo isn't easy to come by in your country, any type of branch will work as well.
Making the decorations is a great opportunity to review colors and shapes, and to practice following directions (learning how to make the origami shapes). Students typically write their wishes on strips of paper, like I want to be a veterinarian or I hope I pass the entrance exam. This year, my students hadn't yet learned this language, so we wrote about things they liked instead.
Origami Club has an amazing website with Tanabata decorations. Although the website is in Japanese, it's very easy to use. Simply click on the picture of the decoration you want to make. On the next page, you'll see one or two buttons. A yellow/orange button leads to illustrated steps for folding. A blue button leads to an animation of the folding process.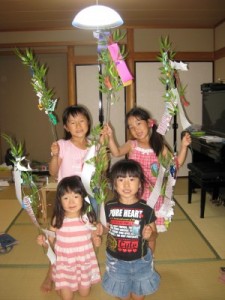 If you're interested in learning more about Tanabata, Kids Web Japan is a great place to visit. It's also a great place for children to learn more about Japan.
Happy Tanabata, and I hope all of your wishes come true.
P.S. You can also celebrate Tanabata on August 7th, like some areas in Japan. The August date is closer to the 7th day of the 7th month on the old lunar calendar 🙂