How to Create a Jazz Chant by Carolyn Graham
Last November, Carolyn Graham did a workshop at the JALT National Conference in Shizuoka, Japan, on how to make a Jazz Chant. I taped her workshop, and with her permission am sharing the part of it where she demonstrates her technique.
One of the many things I love about Carolyn is that she spends most of her time giving away her secrets. In this short video, Carolyn shows teachers how easy it is for them to create their own chants to reinforce vocabulary or grammar.
Knowing how to put together a quick chant can be a lifesaver—for the last five minutes of class, to calm an unruly group of kids, or to put the class reins into your students' hands and have them create their own chants. The possibilities are endless, and I think this is one of the reasons Carolyn's technique has survived all of the methodological twists and turns in our profession in the past 30 years. (The first Jazz Chant book was published in 1978.)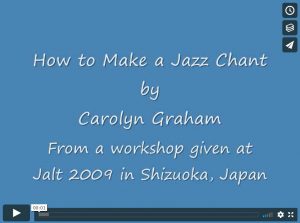 How to Make A Jazz Chant by Carolyn Graham from Barbara Sakamoto on Vimeo.
Hints for creating your own Jazz Chant (from the video):
1) Choose a topic of interest to your students.
2) Use "real" language that's useful and appropriate for the age of your students. ("What's your name?" is real language. "What is your name?" is not real language, because no one really talks like this.)
3. For a vocabulary chant, choose 3 vocabulary words–a 2-syllable word, a 3-syllable word, and a 1-syllable word and put them together with a bit of repetition:
Baseball, basketball, golf.
Baseball, basketball, golf.
Baseball, basketball, baseball, basketball
Baseball, basketball, golf.
4. To reinforce grammar, add a pattern:
He plays baseball.
She plays basketball.
They play golf.
They play golf.
5. Have fun and don't be afraid to play with language!
If you want to read more about Carolyn's long history with Jazz Chants, Celebrating 25 years of Jazz Chants is an excellent overview (from 2006). Two other blog posts that you might enjoy are J is for Jazz Chants on Carol Read's blog and Jason Renshaw's report after attending one of Carolyn's workshops on English Raven.
Disclaimer: Carolyn Graham is one of my co-authors on Let's Go (Oxford University Press) so I've had the excellent fortune to work with her for a long time. Even if I didn't have a front row seat to her magic, I would still adore her for both her chants and her efforts working with teachers and charities around the world. She's one of my heroes.
Just for fun, I searched for Carolyn on YouTube, and came across this video of children in Osaka singing The Hello Song from Let's Go 1. They were so cute, I thought I'd include their video with this post 🙂