Teachers or Trainers? (by Marisa Pavan)
I have two nieces and I love taking them to the cinema as I really enjoy watching children's movies, which are highly inspiring for me as sources of values I can apply in my daily life and in my teaching career. One of the latest I have seen, and particularly enjoyed as it was my first experience in a 3D cinema, is "How to Train Your Dragon".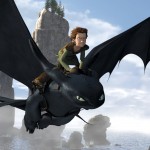 In this animation, the main character, Hiccup, has a different attitude towards life from the rest of his community. I believe that, we, teachers have a different attitude from "non-teachers". Hiccup felt he had to train dragons so that they were able to share their lives with the members of his community. Like Hiccup, we make use of all our patience and tolerance when we perform our role as guides while our students develop skills and strategies to be able to learn a subject or a certain topic. I teach English to teenagers and in the same way as the dragons in the movie, they find it difficult to adapt and to respect certain rules.
In this process of training his dragon, Hiccup learnt several lessons and I am sure that as teachers (or trainers), we learn a lot and we develop a special intuition that enables us to see beyond the surface. That intuition is necessary to be able to foster the appropriate teaching-learning environment, in which students can feel respected and at ease. Hiccup was open-minded in his approach to life and being open mind is essential to accept every one of your students with their particular personality traits. Another aspect we can improve in our capacity as teachers is our emotional intelligence, which is a key element to reach the necessary balance to have harmonious interactions in our classrooms.
All in all, teaching or training others is an insightful experience which is not confined to the classroom but rather extends itself to our daily lives.
Note: This article by Marisa Pavan originally appeared on Teaching Village, and is licensed under a Creative Commons, Attribution-Non Commercial, No Derivatives 3.0 License. If you wish to share it you must re-publish it "as is", and retain any credits, acknowledgements, and hyperlinks within it.