The Wonder of Contact! (by Hadley Ferguson)

More on Hadley's adventures in online collaboration. If you'd like to read the beginning of this adventure, check out "New Friends"

It was a marvelous day for my students when we got to share the learning that went on in our classroom with people living in Japan. Because of the contacts that I made through Twitter with Barbara, the middle school teachers at my school decided to create a Japan Day, using interdisciplinary activities to enhance the connections that we had with people there. The Drama teacher created a lesson on Noh theater; the art teacher and a classroom teacher had a lesson on calligraphy and modern Japanese art; the music teacher led a session on the pentatonic scale and chanting. At another station, we planned for them to learn about the tea ceremony and to then watch a video of one as a silent meditation, with the students sitting silently on the floor, attentive to the sounds and movements of the woman conducting the ceremony.
The day began with a Skype conversation with Victoria Yoshimura, a British woman who is now a Buddhist priest in the mountains of Kyushu. Victoria took time away from a gathering at her house to dress in her robes and spend an hour answering every question that my students could possibly think of. When I tried to let her go after a half hour, she quickly refused, clearly wanting to make sure that she had shared as much of her life as possible. For someone who now only speaks English occasionally, it was quite an hour. The students were amazed that she doesn't speak English with her husband and sons, but instead speaks only Japanese.
As one student said, "You can read about it in books, but to listen to someone who lives there speak about it makes it so much more real." The learning that had gone on in the classroom was so enriched by the personal contact with Victoria. She described life in a small village, an hour and a half from the nearest place to get McDonald's, in ways that brought it alive. Her husband is the 17th generation of his family to be priests in the temple. When asked if her son wanted to be a priest, Victoria was able to bridge the Western understanding of a life with lots of choices and connect for the students how her son would see the benefits and inevitability of a life in the temple. "The farmer's oldest son in the village will inherit the farm; the shopkeeper's oldest son will become a shopkeeper; and my oldest son will become a priest." To have her say it, living in the world with that reality, helped to bridge the gap in ways that I could never do, as an American teacher in an American classroom.
After the call, the students went to the various stations, each one much richer for the connection with Victoria. The aspects of the culture were not just simply interesting but were real. This is the way that life in Victoria's village is lived, perhaps not exactly, but it was no longer simply something else to be learned. There was a real sense that people actually lived this culture and practiced its beliefs.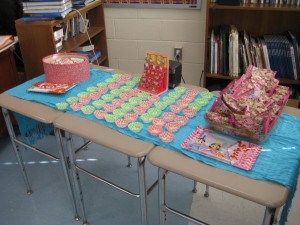 The final event of the day was food! Always a favorite with the students, but this time made even better because the snacks had come all the way from Japan just for them. Barbara Sakamoto had taken the time to pack a large box full of treats for the kids, along with a special one for me. She added in a decoration from Matsuri, Girls Day, a day we had learned about due to Barb's information. I teach at a girls school, so they especially enjoyed it.  The wonder of knowing that someone on the other side of the world had taken the time to send them a treat was amazing. It capped off an awesome experience for them. They started with a conversation to Japan and ended with eating Japanese food!
There are no words to express enough the wonder and gratitude that I feel for Victoria and Barb's generosity! This is what the world of the 21st century can be about, when people who care for children work together to make their learning and their lives as rich as they can be.
Note: This article by Hadley Ferguson originally appeared on Teaching Village, and is licensed under a Creative Commons, Attribution-Non Commercial, No Derivatives 3.0 License. If you wish to share it you must re-publish it "as is", and retain any credits, acknowledgements, and hyperlinks within it.