How to integrate blogging in EFL teaching (by Christina Markoulaki)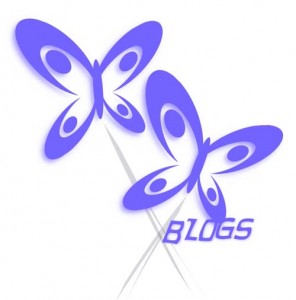 I am pretty confident that a vast majority of EFL teachers relish blogging, but each one employs this practice in his/her teaching differently. I am therefore taking the initiative to write this post to ask and give an answer to this question:  Have you ever thought of creating a blog for your students to use? A blog that will challenge them to think, to produce the target language and subsequently demonstrate their work to the world?
If not, let me give you some ideas by sharing what my students' page contains and how this content was created. I will mainly stick to the fundamentals of blogging; therefore, if anyone has more tips and tricks to offer, he/ she is welcome to do so in comment form.
It goes without saying that blogs for students' use are extremely helpful in language learning, since they include:
texts relevant to students' interests or to the objectives of the lesson to which students can respond by leaving their comments. Besides, who knows their interests better than their teacher who daily receives their written and oral output? Having browsed the Net for such articles or stories, copy the beginning of the text and paste it on your blog. Do not forget to guide your students to the webpage where the complete article is by placing the link to it immediately after the extract you have chosen.
link lists of useful sites for learners to practice all skills; thus, all links are being placed under easily accessible categories ( you can see how I have categorised the links I recommend to my students at the bottom of the side bar of this blog.) Forming visual galleries of the web pages you suggest to your students instead of simple lists is another great idea I first read about on 'Free Technology for Teachers'.
photos and videos from school lessons and celebrations so as for parents to be able to download and keep this material which will demonstrate parts of their children's learning journey. (Be sure to inform parents and get their written consent for this.) Personally, I have created Picasa and Flickr accounts where I upload the school photographs; as for the videos, a YouTube channel is my way of enticing parents and other teachers to take a 'peek' into the classroom. You will find a useful link about how to embed these in your blog in what follows.
embedded slideshows, recordings, glogs, polls or even ebooks used or created during the lesson. In this way, the blog will serve as an excellent reference point for students who wish to go through the material discussed in class once again. They may even wish to vote for the play the class should put on next or check the level of their reading ability by listening to the recording of themselves reading poetry in class. Vocaroo.com is what I have used for recording purposes, while slideshare.net constitutes an excellent means for displaying your slideshows and documents. Team or individual e-posters (i.e. glogs) also appear to arouse everyone's interest, so the site to create educational glogs will definitely come in handy. For those who are still 'newbies',  here is a comprehensive article I have recently come across named 'How to Embed Almost Everything in your Site'. It briefly explains how to display videos, RSS Feeds, slideshows, photographs, word documents, to name but a few straight on your blog.
scanned student's projects of all levels; as soon as learners of all ages (even teachers!) realize that their work is published online, they immediately feel a sense of achievement and satisfaction. Isn't this the type of motivation we are all looking to instill in our students? What is more, parents can partially monitor their child's progress and even leave their comment to encourage him/ her more. Only some basic mistakes should be corrected before publishing the project, since we all want the scanned document to represent our students' real progress. Besides, mistakes are a natural part of the learning process and this is what all students, parents and teachers should finally internalize.
all kinds of funny or educational videos, which offer a great opportunity to students who love exploring novel paths of knowledge. Some sites where such videos abound (apart from YouTube) are TED, Vimeo, Sky News and CNN. There is also an intriguing selection of educational YouTube video channels in Karenne Sylvester's Kalinago English. (I intend to number the steps for anyone who wishes to prepare such an activity in my next post on this blog.)
This is how I have made use of the above features in my Students' Page. The posts that follow are mere examples of the innumerable ways students can practice, enhance or exhibit their knowledge by regularly visiting a teacher's blog. You can create any activity suits the objectives of your lessons as well as your personal philosophy of teaching and learning.
Finally, you will be able able to find more examples of teachers' and students' use of blogging in the slideshow 'Using Web Logs in the EFL Class'.  I saved my favourite quotation for the end, as a reminder of what our inner power of will can do if we simply set it into action.
You don't have to be great to start,

(to blog, I need to add)

but you have to start to be great.
Note: This article by Christina Markoulaki originally appeared on Teaching Village, and is licensed under a Creative Commons, Attribution-Non Commercial, No Derivatives 3.0 License. If you wish to share it you must re-publish it "as is", and retain any credits, acknowledgements, and hyperlinks within it.