Mind Mapping: Learning and Teaching with Both Sides of the Brain (by Hobie Swan)
Introduction
One of the more undiscovered or, in some cases, underutilized teaching methods is the use of mind maps. While the exact origin of this approach to learning is lost in the mists of time, mind mapping has for decades been a regular feature of primary and secondary education in Europe—in Germany and Britain, in particular.
Mind maps are used all around the world, in education and in business. In education, they serve three powerful functions:
As a student presentation tool (a welcome alternative to PowerPoint)
As a pre-writing tool
As a teaching tool (By chunking language, mind mapping makes English more accessible to non-native English speakers. More about that later.)
One of the modern proponents (some say the originator) of modern mind mapping is Sir Tony Buzan, knighted for his contributions to our understanding of how the brain functions. Buzan traces the development of mind mapping to research performed in the 1950s. That research found that one side of the brain, the left side, was the home of rational and linear thinking, of language and numbers. The right side was home to holistic, associative, artistic thinking—of pictures and music and color. By combining elements that appeal to each side of the brain, Buzan reasoned, mind maps would optimize the brain's ability to create, to learn, to remember.
Student Presentations:
Last year, my 9-year-old daughter's class was assigned to choose an American national park, research the park, and then present information about it to their classmates. Here's the map she created on America Samoa National Park.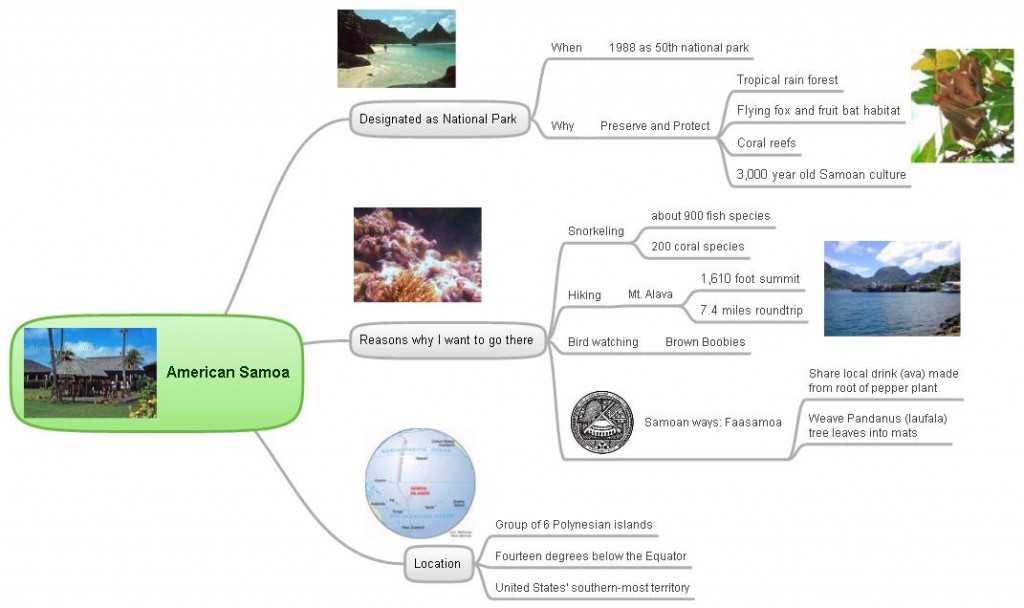 She could have communicated this information by writing a report. And as a professional writer, I have nothing against a well-written report. But consider the benefits of the mind map:
It helped her to organize her thinking into clear categories
It communicated a great deal of information very quickly and very visually (useful when the audience may not have all the patience in the world).
As part of her project, she had to give an oral presentation. The map served as her talking points. She didn't just blindly read what she'd written. She couldn't. She had to extemporize.
My daughter made this map with a software program. But she could have done it with paper and pens too. In fact, some mind mapping proponents insist that it is the kinesthetic experience of drawing that makes mind mapping so powerful. My daughter just happens to like the way she can surf around for cool pictures, use goofy fonts (I restrained her on this project), and even embed Web links into the map.
Whether they draw them by hand, or create them on a computer, kids generally grasp the concept of mapping very quickly. They can make the maps colorful and bright—almost like works of art. The structure of the maps helps them think in terms of concepts and associations, to build hierarchies of information. Since the entire subject can be captured in one map, they learn to think holistically. And the combination of words, colors, images or drawings, and spatial orientation really gets young brains humming.
I'll get back to the other two uses of mind maps. But first, let's look at how you make a mind map. Again, this can be done on paper or by computer.
How to Make a Mind Map
1. You start a mind map at the center, with a Main Idea. All the information you add from this point on should relate to this Main Idea, so it helps you stay focused.

2. Then you can just start entering ideas (Main Topics) that come to you when you think of the Main Idea. You can just enter them or jot them down in the order they come to you.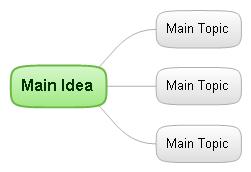 3. Once you have a lot of ideas written down, then you can start start grouping them into a logical structure. If you're using pen and paper, it's probably easier to  create a new map, organizing the ideas you came up with. If you're using a computer, just drag and drop the Main Topics to where you want them.
4. Now you can go one step further, and break down each idea into its component parts (Subtopics). This might involve the entering information you've found, or ideas tha thave occurred to you. 
5. Unlike most writing processes, mind mapping supports—even encourages, nonlinear thinking. It allows the map maker to move around, to follow their interests. But it does all of this within an organized framework. Right brain. Left brain.
Pre-Writing Tool
I remember my teachers trying to get me to create outlines before I began a writing project. I hated it. I never knew what should come first, second, third…
The beauty of working with mind maps is that you don't need to think in terms of ordinals. You start by capturing your ideas in whatever order they come to you. Only later do you move them around to create an ordinal outline. It's a small change. But it can be a very liberating one.
If your students are using pen and paper to build their maps, they would create a second map to organize their ideas, and then use that map as a writing guide. If they are using software, they can simply export the map to a writing program like Microsoft Word, and then just start writing underneath each Main Topic or Subtopic.
Teaching Tool
As I said at the start, mind maps can be particularly useful when English is not the student's primary language. Sentence structure, and especially that of the English language, can be confusing. Mind maps bypass this by "chunking" language—using words and short phrases instead of sentences. Experiencing language as individual words and phrases, connected spatially, accompanied by meaning-laden images or icons, can be a lot easier that seeing those same words embedded in sentences and paragraphs.
And building a mind map can be a wonderful collective adventure. Imagine writing a main idea up on the blackboard or projected on a screen. Say the topic is Global Warming. Ask the kids what some of the things are that might contribute to global warming. Maybe ask them for just one word. Each word or phrase is put up on the map. Each student is contributing to the making of something greater than themselves. This can be very exciting. Now ask the kids what could be done to deal with each of these things that cause global warming. More ideas. More engagement. This process alone is tremendously valuable. But there may be some wonderful subtleties going on too.
Mind mapping tends to draw out the more bashful students. They can call out a word or short phrase, and watch as you add it to the map. I have heard time and time again that there is something almost magical when students can see with their own eyes that their ideas are taken seriously and made part of the collective document. They feel listened to. They feel like they are contributing. And because the students are building the mind map together, their understanding grows as the map grows. Since they are part of a process, they become invested in the process. They ask questions; they seek or make clarifications. They are engaged in the process of learning.
Finally, mind maps have been shown to be especially useful for students with dyslexia. Dyslexia can cause problems with reading: Students can get lost in sentences. It can be hard for them to follow the logic and find the meaning of prose. By viewing or using small chunks made up of words or phrases, these students are better able to follow along and to contribute.
Conclusion
Mind mapping is a wonderfully easy-to-learn, easy-to-use, and powerful way to engage students in the process of learning. It can be particularly useful for teachers who are working with students with different language backgrounds. Simply use "mind mapping" as a search term, and you will find ample resources to get you started.
Note: This article by Hobie Swan originally appeared on Teaching Village, and is licensed under a Creative Commons, Attribution-Non Commercial, No Derivatives 3.0 License. If you wish to share it you must re-publish it "as is", and retain any credits, acknowledgements, and hyperlinks within it.