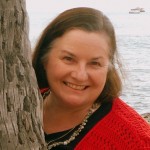 Hi! I'm Barbara Hoskins Sakamoto. I'm an English teacher currently living in Kitakyushu, Japan. I've taught English as a Second or Foreign Language (ESL/EFL) for a little more than 20 years, and in those years I have taught all ages in many different environments–private language schools, public schools, businesses, community centers, my home, and even a university extension class or two.
Why do I use three names? Well, my married name is Sakamoto, and most of my friends know me as Barb Sakamoto. However, I'm co-author of a children's English textbook series called Let's Go, and most of the teachers who use Let's Go know me as Barbara Hoskins. So, to be safe, I use all three names!
I'm passionate about teaching, especially about teaching English to young learners. I want to learn about anything that will make me a better teacher. These days, that includes learning how to use web 2.o tools and virtual worlds in the classroom and for professional development, learning about new teaching methodologies and techniques, trying to keep up with research about how children learn. Luckily, I have found generous online friends who help me learn. Hence the title of my blog: Teaching Village. I know that I'm a better teacher when I can work with others. I think we all benefit from sharing with each other.
I'm hoping that Teaching Village will help me connect with EFL teachers I've met in workshops around the world, and to make new friends, too!