Stuff All EFL Teachers Should Know
Though experience and through language we learn. Experience needs language to give it form. Language needs experience to give it content.

~Walter Loban
Children learning English as a foreign language tend to develop oral language skills before they become literate. In countries like Japan, where the grammar structure and writing system of English is so different from students' first language, students can sit in English class for years before having to deal with anything beyond the ABC song. (more…)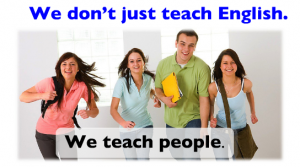 The way to become a teacher is to be a teacher.
It is a truism in education that the way we become good teachers is through experience. The things we learn in certificate programs and grad school help, of course, but it is the act of teaching that gives us the skills we need. (more…)
Like many native English speaking teachers of English, when I started out I'd had no real training in teaching young learners. I'd had training in teaching adults (CELTA) and happened to quite like children – but it didn't make me qualified or prepared for the YL classroom! Looking back nearly 15 years later, I can identify a few key lessons I've learned along the way – through trial and error – sometimes quite long periods of error! I've decided to focus on 3 of them – the 3 I think have helped me the most or the 3 I wish I'd known before starting out! (more…)
When you're walking down a path and you see a hill, what do you think?
This morning, a friend shared this video on facebook. It's one of the entries for the Fun Theory award, which recognizes ideas and inventions that prove that fun is the easiest way to change behavior for the better. Wouldn't you want to take the stairs if they were this much fun?
Of course, I immediately shared the video with my friends on Facebook and Twitter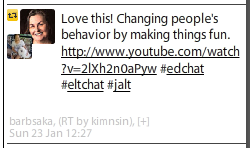 I wasn't the only one who thought about what the Fun Theory could do for English class.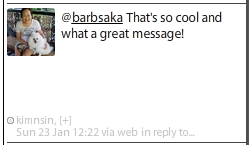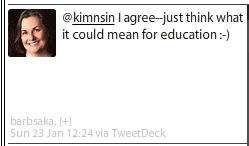 Just think. No matter how you package it, it's hard to gain much fluency in a foreign language without a lot of repetition, which students often see as the learning equivalent of taking the stairs. Given the chance, students will choose the escalator every time. But, if repetition were fun, would students beg for more? Probably.
Of course, in the back of my mind I was thinking that applying the Fun Theory to learning tasks could mean a lot more work for already busy teachers.
Kim Takeda came up with a wonderful solution: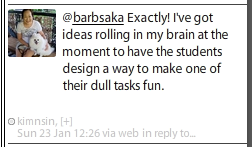 What a brilliant idea! Let the students solve their own problems! The process itself could be an excellent language task. Students can identify which tasks they dislike, and suggest ways to make them more fun (but still as effective). It would be interesting to see how students and teachers see the same tasks.
Do you think your students would change anything? If so, what?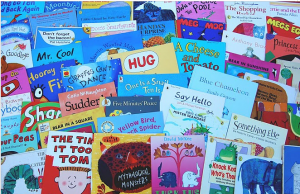 In May this year I launched my blog, Picturebooks in ELT. The motivation came from the work I'm doing with picturebooks for my PhD.  When I began my research programme, I had no idea it would lead me down this route… (more…)
Over the length of my teaching career, I've changed in many ways. I think my journey mimics that of a lot of other ELT teachers.
1. I have slowed down my delivery and instruction considerably. I used to just screech and scream through content. Now, I relax and pause a lot. I take time to enjoy the spaces together. I've realized students need things "a lot" slower and this leads to much more effective learning in the classroom.
2. I risk more, I try different things more. Yes, that would seem against the grain of time and tradition. Aren't old teachers supposed to be "old dogs" without "new tricks"? Not teachers that have really kept developing and learning on the job. I now understand more deeply, how each student needs to learn in their own fashion and way. That's why I have to deliver content in different ways and modify content much more thoroughly. In my beginning years, the whole class was a "glob" and I taught that "glob" in one way – my way. Now, I use a multi-modal approach and am much more conscious of hitting all the skills and allowing students to reach the objectives in their own way.
3. I repeat content more often. Even explicitly (there is usually a groan!). I've realized the value of this and where I used to just assume students had mastered something, now I assess and if they haven't "learned", we repeat, in a different manner.
If there are any "old dogs" out there – I'd like to know if your growth curve has been a long the same lines?
But my development as a teacher isn't the only thing I'd like to write about today. Rather, it is the shadow cast by my own realization that my development is based upon some sound principles. Throughout my years, I've become very interested in special needs and how special educators teach. Mostly because I truly and deeply believe that other than with very young children, we are working with "disabled" students when we teach a language. And we can learn a lot by listening to special needs teachers and the instructional techniques and approaches they use.
One of the epiphanies for me came upon reading Kenneth Dinklage, who as a counselor at Harvard, was stunned how many high performing students were atrocious at learning language. He wondered why these brillant A+ students and "brains", just squeezed by with Ds in their compulsory foreign language courses. So he set out to get to the root of the problem. It wasn't anxiety or lack of motivation or even study skills. It was the instruction! The students had a deficit in their L1 which caused problems learning a second language. Once Dinklage applied some of the techniques used by special educators – their language learning blossomed.
Ganschow and Sparks extended Dinklage's research and identified the Linguistic Coding Deficit Hypothesis (LCDH) stating "that difficulties with foreign language acquisition stem from deficiencies in one or more of these linguistic codes in the student's native language system." Brown has since labeled it the somewhat generic, SLAAP (Second Language Acquisition Associated Phenomena). I've written about this in detail with some practical advice,  HERE.
To me, what it all meant was that I began to see many of the difficulties my students (and I!) experienced in learning a language, as something that could be overcome if I borrowed many of the "ways"  of  special educators. In part II, I'll be discussing one such technique – the use of repetition. Stay tuned!
References:
Dinklage, Kenneth T. "The Inability to Learn a Foreign Language." Emotional Problems of the Student . Ed. G. Blaine and C. McArthur. New York: Appleton, 1971.
Ganschow, Lenore, and Richard Sparks. "Profile of the Learning-Disabled Student Who Experiences Foreign Language Learning Difficulties: Curricular Modifications and Alternatives." (Revised title: "Impact of the Foreign Language Dilemma on College Bound Students with Specific Learning Disabilities.") MLA Convention. Chicago, 28 Dec. 1985.
Part of the series: Stuff All EFL Teachers Should Know
While trying to have a quick nap on a hot Friday afternoon in Southern Spain, I started thinking of what to write about for this guest post. Two ideas came to me – the first being the use of puppets in the early learner classroom, and the other being how to successfully teach teenagers. I've decided to leave the puppet post for my own blog sometime soon, and to write here about teaching teenagers.
In most ELT situations, a teacher will more often than not end up having to teach teenagers at some point. In private institutions, children are the most lucrative students, starting when they are young and hopefully (from the teacher's and owner's point of view – even if their reasons are different) continuing at least until they go to university.
However, for many teachers this age group is the bane of their career. It can be incredibly difficult to create a positive learning environment in which adolescents feel happy, secure, valued and motivated to learn. The reasons for this are many: teenagers are going through many physical and emotional changes, including changes in their brains (see Naomi Moir's post on the OUP blog; they would normally prefer to be somewhere else on a sunny afternoon; if they do want to come to class it may be because it is where the rest of their friends are, as a kind of social club; peer pressure is at its highest and this can have a very negative effect during a lesson; and they may even be suffering from stress and exhaustion due to their demanding school and after school commitments.  These are just a few of the reasons why it can be extremely difficult to provide successful lessons and courses with this age group.
I have taught a fantastic group of teenagers over the past two years, and I think it will be useful to look at aspects of our teacher-student relationship to see why in this particular case, the course has been successful.
The First Day
The first few days are crucial to the way the course will run.  The students will make unconscious decisions during this time about what kind of teacher you are and it is essential to let them know that while you may be relaxed and friendly, you will not accept any nonsense. With an exam course like the one I have been teaching, I spend a large part of the first lesson explaining what will be expected of them during the next two years. I make sure they are conscious of the amount of work they will be doing both in and out of class and how important the pace of the course is, if they want to reach their objectives (in this case, passing the exam).
You may hear lots of moans when you make it clear that they are going to have to work hard, but generally I find that most teenagers expect to have to put in a bit of effort, and this usually motivates them. It is really important that they are motivated, especially if it is a two year course.
Good Cop Vs Bad Cop
I consider myself to be quite strict with teenage exam prep groups, and contrary to popular belief, research has shown that firm but fair teachers are preferred by this age group. Although you may be tempted to treat a group of sixteen year olds as adults, the fact is that emotionally they are not. Even though they may look like adults and demand to be treated like one, they don't usually have the emotional balance and reason that an adult usually has. This means that if you do talk to them as if they were your friends or peers, they will often use this as an excuse not to study or do as you ask. At the end of the day, most teenagers don't have the maturity to choose progress over fun and games, and you will find it much more difficult to get them to put in the required effort.
However, this doesn't mean that you have to bear the stick constantly – give them a carrot when they have been working hard! The idea is you are seen to be in control of the class – something that teenagers consider a quality of a good teacher. Rewards such as games and other fun activities can be a great incentive to get the work done. Do make sure though, that you do give them the rewards you promise, otherwise they will just think that there is no point in doing the work.
Short-Term Goals
For you the school year may fly by and as soon as you know it, June is here again. For the average fifteen year old though, a year can be a very long time. In a two-year course such as the one I've been teaching, you need to provide students with plenty of goals to work towards during the course. Trying to get students to study for an exam that they will sit in two year's time is almost impossible. Even if you constantly remind them of the exam, they will not see it as something realistic until about three months before. This means that you must set them regular goals that they can achieve in order to keep motivation as high as possible. You can discuss and negotiate these goals with your students, keeping them involved.
Motivation
One of the questions constantly posed by teachers of teenagers is "How can I motivate them? They aren't interested in anything!" If you ask a group of teenagers what topics they would like to cover in class, they will come up with very few. Even if you do bring in some materials you have found about their interests, you will inevitably find that they show the same amount of enthusiasm as if they were the typical course book unit about the environment. The problem, I find is not the actual topic of the lesson, but the type of activities involved. Most course book pre-reading tasks for example, do not make you want to read! Trying to get a learner to read through a gapped text before attempting to fill in the gaps is a nightmare, usually because the text is about something not at all interesting and the student has no incentive to read. Imagine you have a text about someone who survived a shark bite. Instead of just asking your students to read, tell them the story from the survivor's point of view from the beginning, but stopping before the end. Now ask what happened next, encouraging all kinds of funny or even gory answers, and then get them reading! The main thing is, unless you want to spend hours before every lesson trying to find interesting teenage material and planning lessons, to find fun ways to exploit the materials they already have in their course books.
Humour
One of the reasons why I have enjoyed teaching this particular group of teens is that we have had some brilliant moments of laughter. Sometimes I have been the instigator and sometimes they have. Although I have made the students work really hard and cover as much as possible every lesson, a good laugh now and again can motivate teenagers to want to come to class. I started this by making up stories, usually to introduce some grammar point, that they actually believed (like having sprained my ankle – lots of limping around the classroom), and then got a bit of a reputation as a fibber! However, this gave me and the students an opportunity to relax. When they saw that I was prepared to joke with them, they were much happier about working. They would themselves decide to work hard so that later they could have a bit of a laugh. I had the odd trick played on me (in a nice way) that had me crying with laughter.
I do believe that teenage groups can be the most rewarding. When you see how much progress they have made, when they have become more responsible for their own learning, how they have grown up and when you and they both feel sad on the last day of the year because you won't see each other for three months, then it is really worth it.
I have been teaching English for over ten years, mostly in Spain. For the past eight years I have been living and teaching in Jerez de la Frontera, Cadiz. I love teaching children and I have a blog mostly devoted to Young Learner related issues and activities called So This Is English and you can find me on Twitter as @michelleworgan.
Part of the series: Stuff All EFL Teachers Should Know
I was initially very flattered when Barbara asked me to write a guest post, then my happy feeling turned to mild panic. Finally I just decided to write so here we are. This post is dedicated to one of my favourite 'props' for the young learner classroom which are SMALL PLASTIC ANIMALS. I like using a range of props which I keep in brightly coloured bags and clothes hampers. (more…)